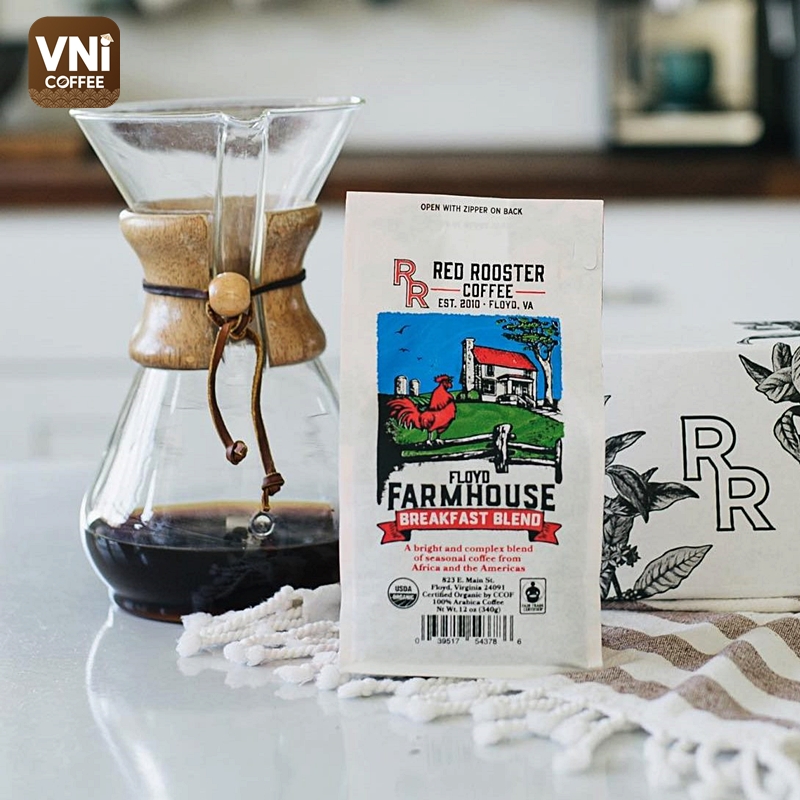 America's best coffee roasters for third-wave experience
Since the 1950s, when instant coffee was becoming a popular drink, specialty cafes began to open to coffee connoisseurs, offering a more delicately traditional brew. The owners start to pursue the finest way to expand the consumer's experience, specifically by making a connection from investing in coffee farms to collecting, roasting beans to discover the balanced natural flavor in their customer's cups. Roasting is basically the process of creating the distinctive flavor of green coffee beans by causing them to change their taste.
In a country where people are so familiar with having a cup of joe every morning like the US, this is quickly being focused on turning coffee enjoyment into a unique culinary art to kick off a great morning. More and more coffee roasters produce their own clean and quality products to serve the taste needs of consumers. Whether you prefer sour, bitter, or a balance of the two, our list of 12 America's best coffee roasters below will be a helpful note to find great roastings for a caffeine fix.
Novo Coffee (Colorado)
Founded in 2002, Novo immediately established a close, equal relationship between farmers and drinkers, so that each step of creating a final quality product brings a certain value. Their beans are roasted in the Loring air-roaster —one of the greenest roasters on the market today. Coffee tasting and experience also take place weekly to ensure timely assessment of coffee quality and adjustment of roast recipes.
Vibrant Coffee Roasters (Philadelphia)
This is a small coffee roaster in Philadelphia, with a wide range of beans from Ethiopia, Brazil, Kenya, Colombia, etc., offering various flavors – including sweetness, balanced taste, mild acidity, that might produce different flavor notes of chocolate, fruity, florals to passionate winey. They use the Ikawa Pro and Loring S15 Falcon machines, which are liquid roasters, not traditional ones, to give perfect consistency in the flavor of every coffee batch.
Bird Rock (California)
A recipient of the Good Food Award for many years, Bird Rock is considered one of the companies dedicated to craft coffee roasting. They actively approach their source farms, offering several ways to improve farmers' lives so that the quality of coffee beans will also be enhanced. Bird Rock's products are super diverse, from single origins, blends to limited roast coffee which are an interesting combination of Mokka and Laurina beans.
Counter Culture (North Carolina)
Counter Culture was the first organic roaster in North Carolina. They place an emphasis on building relationships with their coffee growers and buyers. Besides that, they also inspire people by teaching people about coffee seasonality, brewing methods, and more. Their products are made from blended beans originating from East Africa, Central America, Ethiopia, etc., creating a dynamic coffee flavor profile with balanced notes. Among them, the Apollo by Ethiopia, filled with floral and citrusy notes, tasting silky, sweet, and bright, is truly a product hard to miss.
George Howell Coffee (Boston)
George Howell, the founder, is a pioneer of specialty coffee roasting in America. The way they treat coffee is similar to how a wine-maker treasures their grapes. They pay much attention to storing the raw green coffee beans frozen to maintain their freshness and natural sweetness. Every day, George Howell's craft-roasted coffee, varying from light-medium-dark to Espresso roasts, is produced into batches and packaged right away to preserve the quality.
JBC (Wisconsin)
True to what its slogan shows "We won't buy a coffee unless we know that it will inspire you.", JBC actually only buys coffee directly from manufacturers and brokers who commit to realizing the ideal of sustainable coffee. The most interesting roast to try is Norte from Peru coffee beans, which are round-tasted, nutritious, crisp, with flavor notes of cherry soda, milk chocolate, pink lady apple, and rosewater. In addition to regular caffeine products, they also have two decaf lines: Decaf Colombia and Decaf Royal Select.
Reborn (California)
Going beyond a good product response for third-wave coffee, Reborn Coffee has created unique coffee roasts to be easily distinguished from others by using a new technology called Reborn Process. This process will focus on improving the activities of washing, germinating and drying, to make the coffee beans develop their utmost potential level. Therefore, Reborn's roasts are extremely impressive with deep, distinct flavors, and strong enticing aromas.
Oak Cliff Coffee Roasters (Dallas)
From roasting on a gas grill in a tiny shed, Oak Cliff Coffee has come a long way with several coffee shops and roasters around Dallas and America. The founders and their staff work hard and meticulously in sourcing, roasting, and tasting countless times, to produce a high-quality product to put in consumers' hands. Their product line also focuses on three lines: farm source, blend, and the rare seasonal blend Autumn Blend, which features the coffees with warm, spiced acidity, and tasting notes of dried cranberry, orange, and maple syrup suitable for the cooler weather.
Stumptown Coffee Roasters (Oregon)
This is a coffee roaster in Oregon, with coffee origins mostly from Central – South America, East Africa, and Indonesia. There is a wide range of coffee-roasted tastes; light to dark roasts; single-origin to blend. Their most popular coffee is Hair Blender which features a sweet and balanced flavor of citrus and dark chocolate enough to start a day. Besides, the company is also one of the early innovators with cold brew coffee in nitro cans.
Dragonfly Coffee Roasters (Nevada)
Having experienced coffee roasting and sourcing for over 25 years, Dragonfly is proud to be a supplier of some of the rarest and most exotic roasted coffees in the world, including Gesha varietals. Their Gesha coffee has the bean origin from a farm under a volcano in Panama, which gives it the finest taste. This coffee, varied between light or medium roast, is renowned for exceptional quality, clear aromas, and lyrically bright and juicy structure. They also roast as late as possible and deliver swiftly to ensure freshness.
3-19 Coffee (California)
3-19 believes that each harvest, each roast, and each brew produces a distinct coffee. It is a creation and enjoying it also needs to be artistic to have memorable experiences. Their coffee is carefully curated from Brazil, Muranga, Ethiopia, Colombia, Indonesia and roasted in small batches by a Loring S35 Kestrel every Tuesday. One of their best sellers is dark-roasted Dali, aiming to coax maximum richness, brown sugar, chocolate, and vanilla.
Red Rooster Coffee (Virginia)
Red Rooster initially focused only on producing roasted coffee to supply the family's cafe business, but then, it's their quality that helped the brand spread around Virginia and further to be one of the best coffee roasters in America. They show thoughtful care to their coffee source, roasting technology, water quality, and brewing methods to maintain consistently clean and bright coffees year after year. Not only that, but they also take the time to make great art on their bags.
Devoción (New York)
With the opinion that half of the coffee flavor depends on the freshness of the beans, Devoción buys the beans at Columbia and processes them directly at their facility there, and then quickly sends them to the Brooklyn-based roaster within 10 days to ensure subtle shades shine through. As a matter of fact, the roasting company has brought its customers to the roots through the freshness and experience of coffee products.