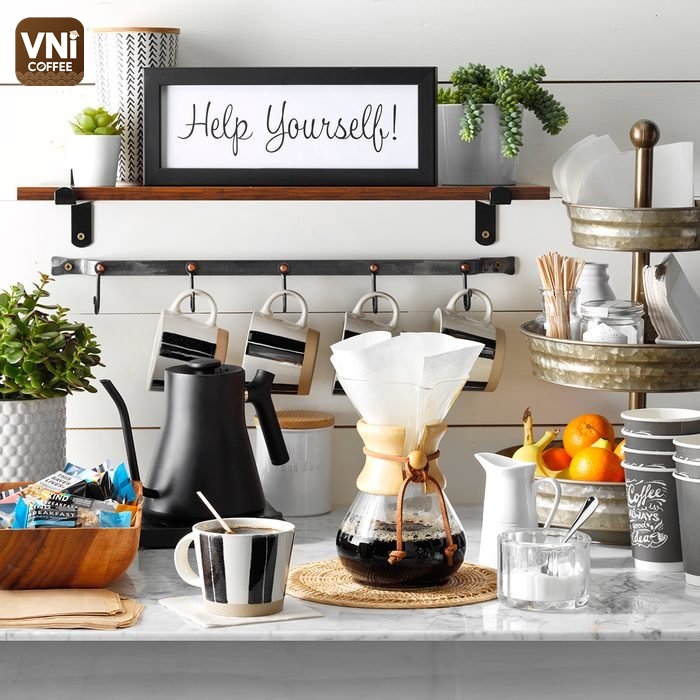 How to set up a home coffee bar to awaken your inner barista passion
If you need a little caffeine in the morning but don't want to go to the coffee shop during a serious epidemic situation, why not try designing a coffee bar space in your home. More and more people find it an elegant pleasure to make coffee at home, helping themselves to experience making their own coffee step by step carefully and carefully. This way, you can add a unique touch to a corner of your home, while taking your morning routine to the next level. Here is our guideline to make your things much easier.
Locate your coffee bar
The first thing you need to be clear in mind is where to put the coffee bar most appropriate as just a little change is able to give the space a new cover. That can be the kitchen to get the best of kitchen essentials, mezzanine floor, stair hall to provide private relaxation space; or a living room to easily entertain your guests; also, under the stairs is a creative idea.
However, using a nook at the kitchen to set up a home coffee bar seems to be most appropriate and convenient. The design makes it easy to get all the materials while cleaning up quickly. Sliding doors will be helpful to cover the entire kitchen table and coffee bar. What's more, in addition to preparing your favorite cup of joe, this is also the perfect space for breakfast, you can sip hot coffee and have breakfast right at the counter.
Start with the table and cabinet
There is no shortage of mini coffee bar table designs and simple kitchen cabinets sold on the market. However, to get the fulfilled feeling of homemade stuff, why don't customize an old wardrobe and wall shelf for your bar?
With a little paint and primer, you can turn an ancient closet into a lovely table that holds necessary things for your morning cup of java. Above the table bar, you can hang a black wooden shelf to place bottles, cutting boards, and plates to add a modern touch to the traditional, rustic space. For hanging cabinets, it's better to choose wall-mounted cupboards to save room. You can arrange the preparation ingredients. Try to create uniformity in color between the table bar and the cabinets.
Check out the lighting system
One of the vital parts when designing a home coffee bar is choosing the right type of lighting to highlight the space. The shimmering brightness will not only help the bar stay beautiful at night but also bring a sweet and cozy feeling to drinkers.
Sizable recessed downlights shining down create a diffused light source sufficient for the width of the bar. These devices should be placed directly above the display counter so that the light does not reach your eyes. Or, you can opt for pendant lights with the impressively focused light from the ceiling onto your cups, making them more bling-bling.
Queen of the palace: a coffee maker
When it comes to coffee bars, even at home, it can't just include a few traditional aluminum filters. Coffee enthusiasts are always fascinated with the masterpieces that the world has created such as Bialetti, the French press, or siphon, Hario V60 filter paper, etc.
It is the homeowner, not anyone else, that has the opportunity to enjoy discovering new things when creating personalized coffee cups with his own hands. With a home coffee bar, the automatic espresso (and cappuccino) machine is the right choice for those who prefer convenience and simplicity. Small home mini coffee machines or single-serve makers will definitely give a better taste as they contain high pressure to extract all the flavor of the beans.
Coffee
To make tasty coffee at home, ingredients are a vital key. It is necessary to choose clean, pure coffee, not mixed with chemicals, to ensure your health as well as intact taste. Additionally, pay attention to the composition of beans as well as the level of roasting on the package. The manufacturer tends to mix Robusta and Arabica coffee at different ratios to suit various preferences.
Prioritize buying coffee beans if you already have a mini coffee grinder. In contrast, get a small amount of coffee enough for about two weeks backwards because the powder after being exposed to air will quickly lose quality.
Stock the bar with accessories
Your home coffee bar won't be boring with essentials – the perfect mugs for each coffee type, a barista kit, sprayer, syrup, cookie jars, straws, and even to-go cups if you want to grab it outside. In addition, a pot of fresh flowers also increases your emotion while enjoying coffee.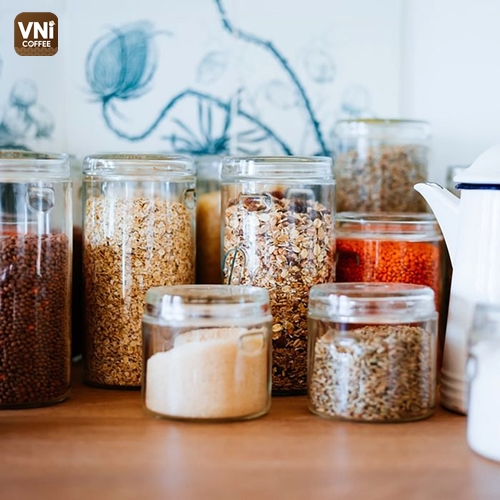 Conclusion
While hanging out at the cafe might not be easy to enjoy different types of coffee, you absolutely satisfy this passion at your home coffee bar. With just a little setup in the familiar corner of the house, you will become your own barista to comfortably create any favorite drink.