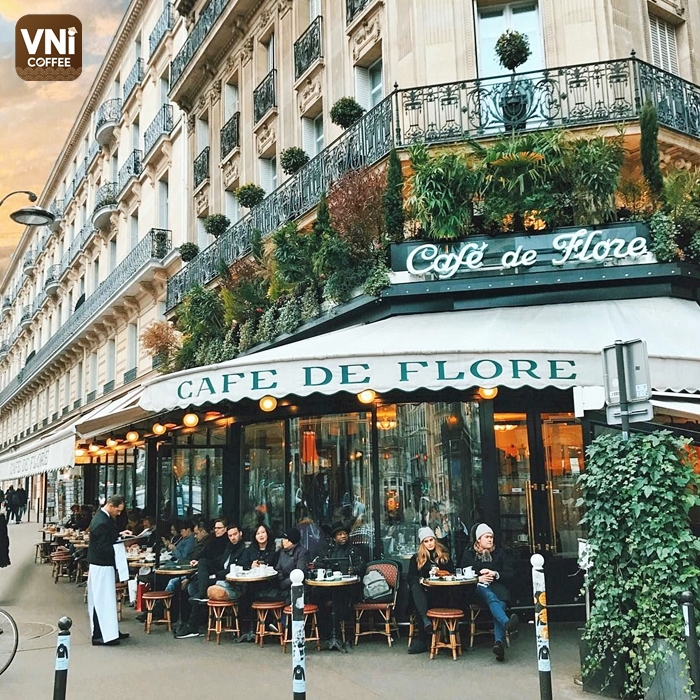 The most iconic cafes in Paris for terrasses-de-café experience
Paris has more than 1500 cafes and restaurants, from popular to luxurious in well-known tourist areas, such as Champs Elysee, Opéra, Grands Boulevards, Saint-Michel. Still, the most symbolic style to spot here is Terrasses de cafe – also known as sidewalk coffee shops that serve as a city's hub of social and culinary life. Parisians are inherently slow-paced – they like to comfortably sit there reading morning newspapers, sipping a cup of coffee, or having a delicious brunch, chatting, and watching the flow of people passing by. Coupled with prolonged warm spring, chilling out at these beautiful iconic cafes in Paris has become a remarkable culture that should not be missed.
Le Select
Address: 99 Boulevard du Montparnasse
Many cafes in Montparnasse offer steep history with lots of old-world glamors, and Le Select is one of those. Located on the south bank of the Seine, it was once frequented by Hemingway, Picasso, and Henry Miller. The cafe hasn't changed much since it opened in 1925; the interior is highlighted by beautiful paintings on the walls, offering a Parisian Montparnasse atmosphere, as if the ancient artists of the past century were still present.
The cuisine features good quality brasserie food and excellent coffee drinks. Every morning, the cafe also played 1930s Jazz. As located in the Montparnasse area and being a famous literary cafe, This iconic spot is fairly crowded, but here, visitors can experience the exciting authentic life of Paris.
Le Procope
Address: 13 rue de l'Ancienne Comédie
Le Procope is the oldest cafe in the city that opened in 1686; therefore, it witnessed plenty of historical events and encounters between well-known figures – Rousseau, Voltaire, Balzac, Alembert, Diderot, Verlaine. The ambiance and decor are second to none in evoking a bygone Paris, with interesting pieces of maintained history, including Napoleon's hat, Voltaire's table, and Marat bell.
They serve solid Parisian cuisine, notably coq au vin, braised beef cheeks, homemade mille feuille, and a limit of dessert, like crème brulee and tiramisu. Note that the building, in its original form, has no air conditioning. Also, due to its consistent popularity with native Parisians and tourists, it's good to have a reservation.
Cafe de Flore
Address: 172 Saint Germain
Situated on the Boulevard Saint Germain, Cafe de Flore has been attracting Rive Gauche's intellectuals for more than a century. The cafe also used to be the meeting place of two famous French writers – philosophers Simone de Beauvoir and Jean-Paul Sartre. Today, Flore still retains its inherent discreet charm.
If you're looking for a cafe serving cinematic French lunch, then this is it! Enjoying a cappuccino and croissant at a shaded table on the sidewalk while watching people stroll up and down the street, with the sun streaming in is a great experience at Flore. Although the price is quite high, it is well worth the history and for the position.
Le Petit Fer a Cheval
Address: 30 rue Vieille du Temple
Le Petit Fer a Cheval lies on Temple Street to the west of Le Marais – the oldest part of Paris with palaces and luxurious villas dating back to the 18th century. Visitors particularly tend to compete for outside seats on the sidewalk to admire the beauty of this old town.
The cafe itself is rather chaotic but in a good way: airy outside seating, a friendly, lively atmosphere with groups of locals which adds to the authentic feel. Among all of their quintessential Parisian dishes, the superb recommendation is the duck; for the dessert, it should be the caramelized Tarte Tatin.
Cafe de la Paix 
Address: 5 Place de l'Opera
If you really want to see how lively Paris street culture is, there's no better place to watch than the porch of this historic Cafe de la Paix. This cafe is part of the Le Grand Hotel, built-in 1858 by architect Charles Garnier – the author of the magnificent Opera Garnier.
It's also worth taking a seat in the unbelievable view of the bar and the beautiful winter garden inside the hotel. You will be pleased with the tremendous number of dining options available in Paris, and don't miss the oysters and Chablis wine.
Le Consulat
Address: 18 Rue Norvins
Tucked away in the heart of Montmartre, Le Consulat is a historic cafe yet still known as an Instagrammable spot. Here, you will feel a completely tranquil vibe, like being away from the hustle and bustle outside. Furthermore, visitors can effortlessly reach nearby sites, including Montmartre Museum, as well as Clos Montmartre – one of the few remaining vineyards in Paris.
This traditional bistro serves everything, from a Croque Monsieur to large bowls of Moules, from hot cappuccino to different freshly-made juice types; they also have a couple of vegetarian choices.
La Maison Rose
Address: 2 Rue de l'Abreuvoir
La Maison Rose is the iconic building of the artist Utrillo, which was utterly evident from the 1930s painting "little pink house" at its appearance. It's understandable when the cafe does attract a lot of tourists for its history and eye-catching pink exterior adorned with green trees.
Though the space inside is small, the cafe gives a cozy and comfortable vibe. The menu is also accommodating with vegetarian, vegan, and gluten-free options, all of which are inspired by French farm-to-table cuisine.