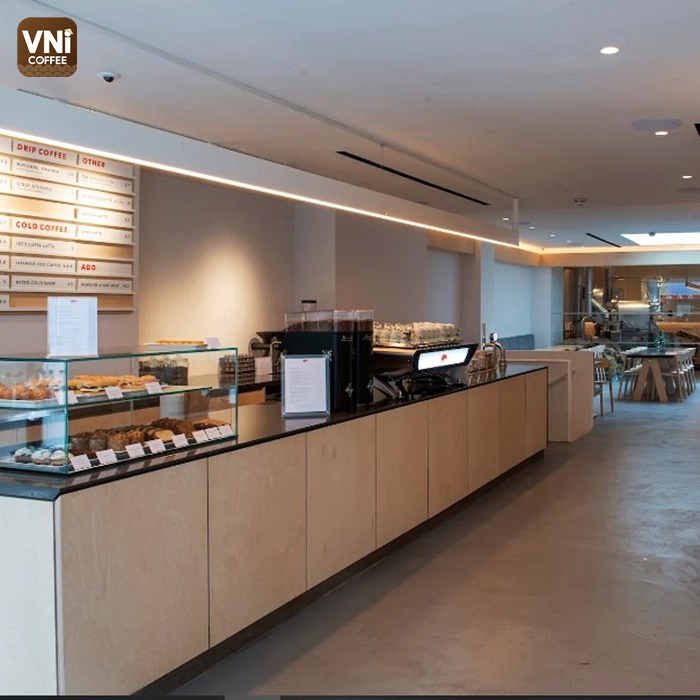 A gathering of the best cafes in London
In the context of the whole world is booming with hundreds of different coffee shops, from commercial, traditional to specialty ones. London, apparently, also includes numerous great coffee shops for a good caffeine fix and quick bites. Here is a compilation of the best cafes in London where you can restfully enjoy delicious drinks and street views.
Origin Coffee
Address: 65 Charlotte Road Shoreditch, London
Tucked away on a quiet road, with little car traffic, Origin is a small cafe with just a few seats, but in return, their coffee and pastries are great, along with the lovely staff. The concrete floor design with clean lines creates a cozy space, suitable for sipping a cup of coffee and reading a book. The colorful art on the walls may attract your eyes at once. During busy periods, like breakfast and lunchtime, the line can be long, but it generally moves quickly.
Antipode
Address: 28 Fulham Palace Road Hammersmith, London
Antipode is a cozy independent Australian-style coffeehouse in Hammersmith, with perfect specialty coffee and a wide selection of brunch offerings. The cafe also serves alcoholics and cocktails at night. The interior is contemporary, with trendy furniture of wooden seats and benches. Two things counted as drawbacks are that it's pretty noisy on weekend mornings and there is no WiFi.
Browns of Brockley
Address: 5-6, Coulgate Street Brockley, London
Situated just outside the Brockley station, Browns set the scene aptly. This is a place visited by locals. What makes you amazed is not only the spotlessly clean in and outside but also the super kind staff; even when busy, they are not showing any annoying attitude. Although on the expensive side, you totally get what you pay for, the decent coffees and yummy freshly-made bakes.
Birdhouse
Address: 23, St. John's Hill, London
Enthusiastic staff, a cool interior, sunny outside seating, great coffee drinks, and an an interesting brunch menu, make Birdhouse a hidden gem in the St. John's Hill neighborhood. You will enjoy exploring its Cuban-inspired menu while absorbing the laid-back atmosphere and distinct aesthetic. Their drink, as well as food, are well presented in cups and plates matching the interior's yellow-grey themes.
Kaffeine
Address: 66, Great Titchfield Street, London
As a fairly popular place around the Great Titchfield area, it is understandable that Kaffeine is always noisy and crowded. The cafe is smartly designed, with just the right amount of seating inside and a row of benches outside. Their menu features strong coffee and loads of handmade bread, creative salads, and sweets. It's clear that Kaffeine owners take their coffee very seriously, and so do the waiters, who are knowledgeable about coffee and being friendly all the time.
Kiss the Hippo Coffee
Address: 50, George Street, Richmond, London
This is a lovely cafe with a quirky name, yet its minimalist design and delicious coffee will satisfy you. They are working with different coffee origins that are home roasted, you can also see how they are processed from the counter area. The bartenders are extremely knowledgeable and take pride in what they do. There is a wide range of quality coffee beans to buy, and milk alternatives at reasonable prices.
The Ivy Chelsea Garden
Address: 195, 197 King's Rd, Chelsea, London
The Ivy Chelsea Garden is an impressive London cafe with a beautiful garden space, covered with roses, purple pea flowers, and vines. The shop has an indoor space, but most visitors choose a cool and fresh outdoor area to comfortably enjoy coffee with cakes and admire the natural scenery. They have innumberable choices of drinks and food that are truly value for money.