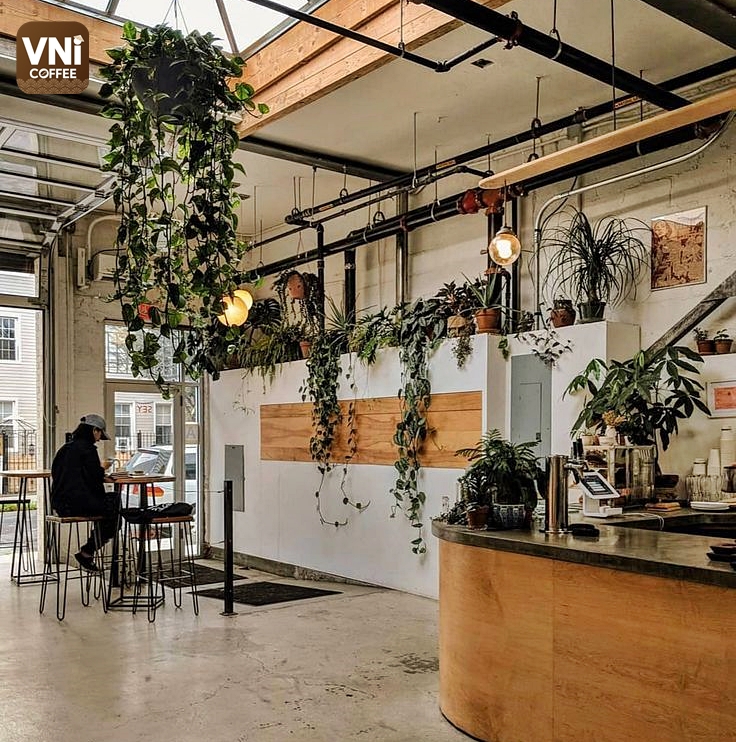 Best collection of world's coolest cafes for both the look and taste
The quirky and creative design is the best way to attract customers' attention who are confused among hundreds of coffee shops in the same place. The style of a cafe is not only a reflection of the owner's personality but also an effective tool to help them build the brand, as well as to focus on the target customer segment. For example, women are likely to love light and romantic vintage-style cafes, then men are fond of the plain industrial look; Or, young people are captivated by the elegance and minimalism of Scandinavian style, while the middle-aged find comfortable with the classic warm space.
Aside from the rush hours of grabbing a take-and-go cup on the way to work, most of us still prefer sitting in a nice enough setting to sip a cup of coffee and chat with friends. The 8 worldwide coolest coffee shops we summarize up below will give you a fashionable backdrop to chill out and good specialty coffee flavors at the same time.
SEY Coffee
18 Grattan St, Brooklyn, New York
This is the brainchild of a couple who started as sophisticated and light-hearted coffee roasters, but it didn't seem to be enough for their dreams, so they built a lovely coffee shop hidden in a corner of Brooklyn street, far from the buzz. The place features classic and rustic touches with all-natural wooden furniture. The massive skylights and plants truly seal the deal, which provides an open-air ambiance at all seatings.
Everything is tightly focused and orderly — from the decor to the drinks on the menu. There are not too many varieties of coffee, but all of which are carefully hand-selected and roasted directly at the back of the shop. Tea is also fragrant, delicious, and nicely presented.
Walter's Coffee
21B Moda, Istanbul, Turkey
The cafe's name is not named after its owner, Deniz Kosan, but after a relative of his, who looks like Walter White. The shop's concept is inspired by the cult TV series, Breaking Bad. Stepping inside, you will immediately feel like standing in an interesting laboratory decorated with things in white – black – yellow colors. They also separate the smoking zone and the quiet space where you can spend quality time for a deep talk or working on the laptop.
There is a wide choice of freshly roasted coffee and desserts (donuts and brownies) that are worth trying and priced at reasonable prices as well. Guests can also have fun trying on those yellow lab costumes and taking photos with lots of things there, from lab tubes to tanks.
Veneziano Coffee Roasters
111 Melbourne St, North Adelaide SA, Australia
This coffee building is converted from an old industrial space on the edge of Richmond. It all starts when you push the door and get a breeze of freshly roasted coffee. The harmonious interior in the metallic palette shade of blues, bronzes, grays, and blacks forms the bar-like design. The setting with the high ceilings and spacious area gives an airy ambiance and a relaxing feeling.
A decent selection of coffee is presented on the menu, together with milkshake options for kids. The house filter and batch brew are served in a handle-less ceramic mug, which keeps the heat well but sometimes too hot to pick it up. Customers can literally see how the coffee is roasted and how the process works at the central round bar, where you can also interact naturally with the baristas.
Cafezal
Via Solferino, Milan, Italy
Cafezal is a new specialty coffee brand launched in the heart of Milan's bustling Brera district for real coffee connoisseurs. The shop offers a selection of grade-approved coffees from great third-wave beans from around the world. Here, the best organic beans are roasted to perfection, which means smooth, rich, and flavorful coffee brewed at just the right temperature, so there's only natural sweet aftertaste without any bitterness.
The interior is shaped in a neoclassical style with black Marquina marble and satin bronze accents. The background of deep blue tones perfectly interwoven between white furniture help to release the eyes' wavelength and bring a bright vibe. Knowledgeable baristas will be another delight as they are enthusiastic, friendly, and willing to share about coffees and their history.
Truth Coffee
36 Buitenkant Street, Cape Town Central, South Africa
Founded in 2010, Truth Cafe proves itself as not only a simple coffeehouse, but also a great experience with the perfect synergy of exceptional coffee, a fun "steampunk" setting, friendly service, and decent menus. This is a great example of how a theme and marketing can make a big success. The staff all dress in costumes to fit the industrial theme, and they are also quite attentive. The old-newspaper-like menu matches with the steampunk motif and has plenty of great choices. The diverse options will show you coffee is not as plain as you've ever thought.
If lucky, you even get a tiny personal tour of the roasting area and such. Due to its popularity, they can quickly run out of several items on the menu by 11 a.m daily.
Misto
28 Pluku 119/33, Prague, Czech Republic
Opened in 2015, this cafe, which used to be a ground-floor apartment, has quickly earned a reputation as one of Prague's best coffee destinations in the Dejvice neighborhood. Aimed to a minimal modern demeanor, the cafe is beautifully designed with concrete and wood dominating the space, giving a feel of the place where people have their laptops and books out with a cup of joe.
Speaking of the drink, they have you guess which coffee is which based upon the menu descriptions, then give you an answer key to look at after you've guessed. You can also choose the coffee beans you prefer to brew spot-on. For the food, the owner creates a new menu every week with different delicious options. There are several interesting events organized here, like music nights with live music, board game night, or cuisine events.
Little Cloud Coffee
Gyre 2F5-10-1, Jingu-mae Shibuya, Tokyo
Little Cloud Coffee is a flagship in-shop cafe of the Japanese clothing brand, Visvim. Therefore, the place also bears an artful appearance that utterly characterizes the brand's unique aesthetics. The entire space is a well-mix of dark wood furniture, glass, and white concrete walls. All rooms are interconnected, making the shop more spacious and airy. You can either enjoy numerous decent brews while shopping around the area or sit at the long wooden tables in a glass-surrounded corner.
Their coffee has to go through a careful selection of beans, a satisfactory degree of roast, and choice blending, to give customers a full-bodied cup with a rich sweetness and no acidity. The menu also offers various drink types – drip, cold brew, espresso, seasonal beverages, and refreshments.
Skye Coffee
Calle Pamplona, Barcelona, Spain
Combining a design passion with the love for coffee, Skye Coffee brings a minimalist, super breezy, clean, and tranquil warehouse, creating the perfect environment for privacy and concentration in nice relaxing folk music in the background.
The coffee is brewed in a cute van parked just inside the warehouse, while tables and soft sofas are set far apart. Minimalism is also applied to the menu and how they process their coffee. The coffee is served in the simplest and purest three types – espresso, V60, or with milk – no syrup nor cream, to let customers feel the true essence of coffee.
Ten Belles
10 rue de la Grange aux, Belles Canal St Martin, Paris
Situated near the lively Canal Saint-Martin where people stroll around and effortlessly catch sight of it, Ten Belles is the cafe of a famous Parisian barista, Thomas Lehoux. The front of the shop is quite eye-catching by its dark blue wooden door; at the sidewalk scatter a few decorated mini pots of plants and herbs, as well as colorful folding chairs for those who want to smoke or watch the flow of people pass by.
The downstairs locates a bar and bake cabinet, along with a few seats, while the mezzanine floor features some tables overlooking the bar. Besides the well-poured specialty coffee, especially the on-point cappuccino always at the right temperature, the shop also serves a variety of cake and bread for breakfast, and other options for light meals, such as healthy granola, salad, pastries, biscuits, sandwiches, etc.