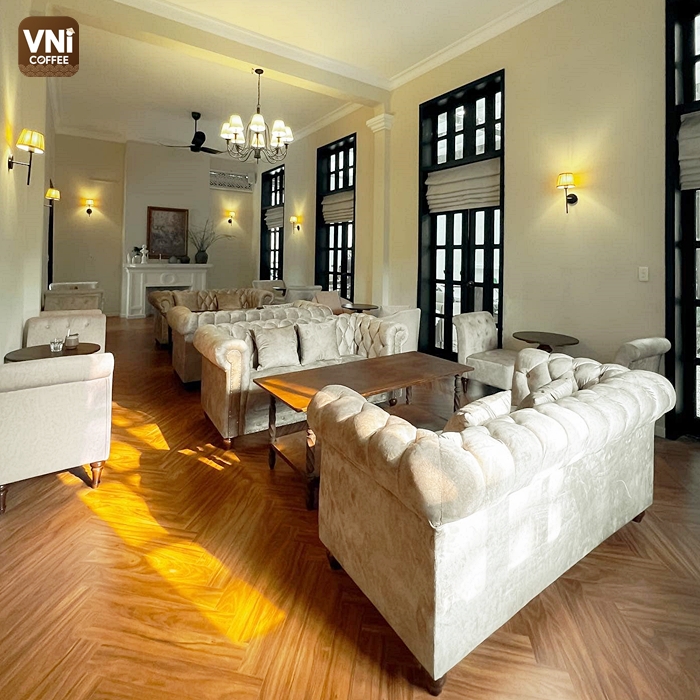 Go back in time with 4 cafes in Saigon old buildings
Even though as a bustling city with numerous skyscrapers amidst lavish lights, Saigon has no shortage of old buildings from hundreds of years ago that keep precious memories of its own development journey. A few places have been degraded and razed to make way for new modern office buildings, while some are still in use and transformed with different shops and cafes. At a time when you need a lyrical, vintage space with ancient architecture, don't forget to visit the following cafes in Saigon old buildings.
L'Usine
Address: 151 Dong Khoi, Ben Nghe, District 1, HCMC
Located on the first floor of an old French house on the busiest street in the city, L'Usine is a concept store that harmoniously combines dining, shopping, and art contemplation. With a design with the Indochinese architecture in the 90s, L'Usine has proudly appeared several times in different famous travel magazines, such as CNN Travel, New York Times, Conde Nast Traveler, etc.
Each individual corner appears in a separate color, gently displayed with handmade items, vintage fashion clothes, or a stall selling fresh vegetables imported from Da Lat. The menu is quite rich, from Western-style breakfasts – salads, sandwiches, pasta – to many types of desserts, cakes, drinks, all of which bring great flavors and nice decorations.
Vung Oi Mo Ra
Address: 61 Tran Quoc Thao, Vo Thi Sau, District 3, HCMC
Vung Oi Mo Ra opens a nostalgic collection space: wooden chairs and velvet pillows, thick cloth tablecloths and curtains, old home appliances and electronics, as well as pre-1975 paintings, hung on colorful walls. Still, the space has currently changed a bit, becoming more simple and sophisticated with leather chairs and wooden tables.
At night, the area becomes more sparkling with shimmering white candles, the melodious piano, and the violin of the live band. The menu here is not too fussy but includes typical options such as coffee, juice, beer, ice cream, and some snacks. There is also a surcharge during the shows, but the price is well worth it if you want to stay longer.
SORI café & more
Address: 20 Tu Xuong, District 3, HCMC
Located on Tu Xuong Street in the campus of an old villa, SORI, a branch in the complex of KHOM cafe, has the charm of architectural and cultural interference. Taking white tones as the main theme, the shop is divided into 3 rooms: the outer space is a gravel garden area, which is stocked with many green trees, creating a cool feeling; next is the indoor area, including the 2nd floor, which is simply decorated with bright luxury furniture in harmony with white wall paint; The most impressive area is probably the backyard with a swimming pool and lots of trees, this is a pretty chill corner at night.
The shop serves a full range of coffees, teas, juices, smoothies, and mocktails. The price of drinks is quite reasonable, only from 55,000 VND.
Darkroom
Address: 30/1F Ngo Thoi Nhiem, Ward 7, District 3, HCMC
Nestled in a small alley at number 30 on Ngo Thoi Nhiem Street in the heart of District 3, you will easily find Darkroom under the shade of green trees. True to its name, Darkroom – a place to process photographic film, the cafe became a familiar destination for young people who love and want to learn about film photography. You will be overwhelmed by a wall made up of old and broken film cameras, cleaned and interspersed between wooden frames.
On any day of the week, there are always guests drinking coffee with a film camera in hand. It is these guests who also become friends and teachers who enthusiastically exchange experiences in the art of film photography. There are two shops on the first and second floors specializing in selling 135, 120 photographic films, accessories, and film-coated labs. In addition to basic coffee and tea dishes, Darkroom also serves home-brewed yogurt and dried apricot.