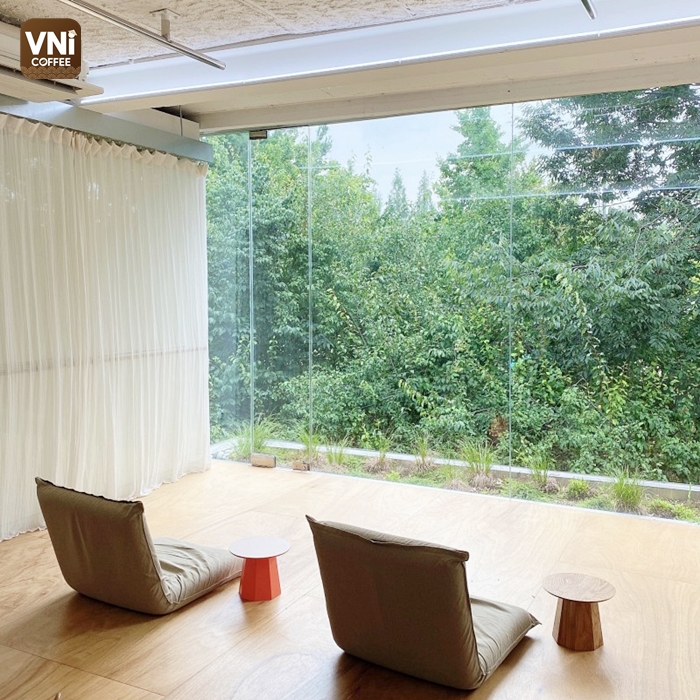 South Korea cafes to release stress by just silently staring to the space
Have you ever pictured yourself paying for sitting at a coffee shop, doing nothing but looking at the forest trees or even yourself in a mirror? Now, everything can be true in South Korea. The cafe forms with the common point of chairs always towards the view of nature, instead of facing each other for guests to chat, seems to be increasingly spread gradually in the country. Not only Green Lab – the very first spot with a facade facing the Seoul forest, but also many other names like Goyose and Mung Hit, provide customers get-away seats to take a moment of silence there and feel their heart.
The Hitting Mung cafe concept
The percentage of Koreans, especially young adults, experiencing stress in daily lives is increasing, with 7 out of 10 people feeling pressured and tired of life. As a result, a new trend, namely hitting mung (mung in Korean means empty), came up through a competition. During the competition, the contestants will sit quietly, relax, listen to their breath, and feel their hearts.
Catching up with this trend, some entrepreneurs open cafes in a tranquil, isolated place, allowing guests to shake off the hustle and bustle of life and immerse themselves in nature. Here, guests are not allowed to wear shoes, chat, or use the phone, but choose a spot, sit silently until leaving.
Green Lab
Address: 18-11 Seoulsup 2, Seongsu-dong, Seoul
Opened before the pandemic, in a small street near Seoul Forest, Green Lab cafe has four floors, of which the second studio features the core of the hitting mung concept. This room overlooks the natural green scenery of forest, with low back chairs put parallelly. The space is limited to 10 seats, so guests need to make a reservation.
After ordering a drink, every customer will be given a gift bag, which contains tea, flowers, paper, and a pen to write their favorite things on it. They will then be asked to put the phone on silent mode and not talk to others. Green Lab is the name leading the trend of "self-healing" by sitting quietly watching nature in Korea. Now, the shop is almost full every day.
Goyosae
Address: 1569-25 Samyang Gil-dong, Jeju
Similarly, Goyosae on the north coast of Jeju Island is also a coffee house with the "hitting mung" concept. The cafe has two floors, the upstairs space, with a maximum of 8 seats, is for those who have made a reservation and want to sit quietly alone, while the first floor has lots of natural light, ideal for reading books in case you miss a place on the upper floor.
The scenery is magnificent with a peaceful atmosphere overlooking the sea. Their menu is simple with a few drinks and desserts, but the tea is outstanding. Music is in meditating-vibe, making it more perfect for healing the inner self. The shop also sells accompanying items so that guests can write poems or letters to themselves.
Mung Hit
Address: 1970-34, Haeannam, Hwado-myeon, Ganghwa-gun, Incheon
On Ganghwa Island, off the coast of Korea is a cafe called Mung Hit. The shop includes several spaces with different theme experiences: taste, brain slap, heartbreak, and forest hit. There are countless quiet corners for guests to meditate, read a book, or sit by the pond, garden chairs, looking at the mountains in front of them. In addition to nature, visitors can also sit in chairs with backs facing the mirror, and stare at themselves in the mirror.
The owners bring a new hope so that people can self-energize and discover their self-worth through another dimension through tea, books, scenery, meditation, and sleep. A small note is that the shop contains no children and pet zones.