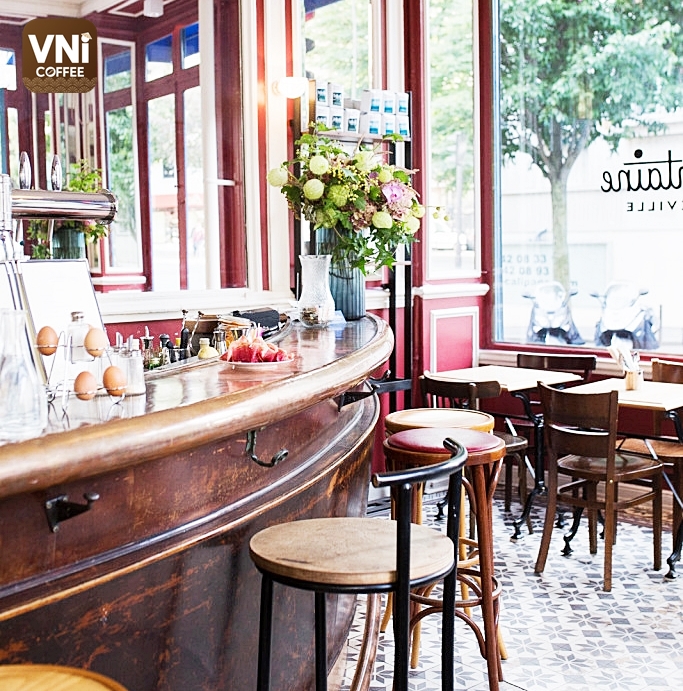 World's 8 best coffee shops offering both excellent cups of joe and unwind vibes
Nothing could be better than spending the weekend morning at a sunny, cozy cafe sipping top-notch roasted coffee whilst watching locals chit-chat around. This kind of joy can be done easily where you live, but what if you're traveling? To find a perfect coffee shop in a completely new place might not be easy, especially when you want to have a caffeine fix as well as discover the pulse of a city and its people. Check out our picks for the top 8 best coffee shops around the world giving you a passionate sip, pleasing-to-eye designs and vibrant ambience.
1. New York Café – Budapest, Hungary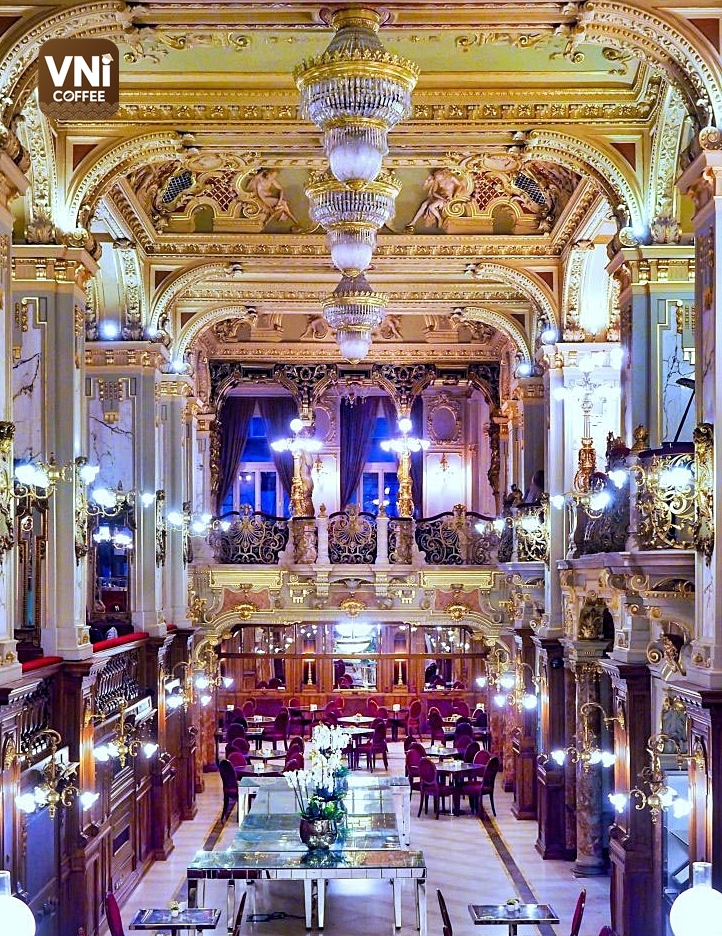 Built in the Italian Renaissance style with a variety of sparkling chandeliers and spectacular frescoes on high ceilings, New York Café is one of the oldest cafes in Budapest when it comes to life up to 125 years. For the first impression, it looks more like a lavish castle than a place to just drink coffee and eat desserts. Sometimes, you will have a chance to enjoy a small orchestra playing some classical music.
On the busiest days, New York Café can welcome around 2,000 people, forming a long line along Erzsébet köút, one of Budapest's main boulevards. The menu includes the most typical Hungarian desserts with 16 types of cakes and pastries. Although today's market is rather competitive, the café still maintains its position among the best coffee shops in the world thanks to its delicious food, good coffee, and above all, its magnificent architecture.
2. Café Central – Vienna, Austria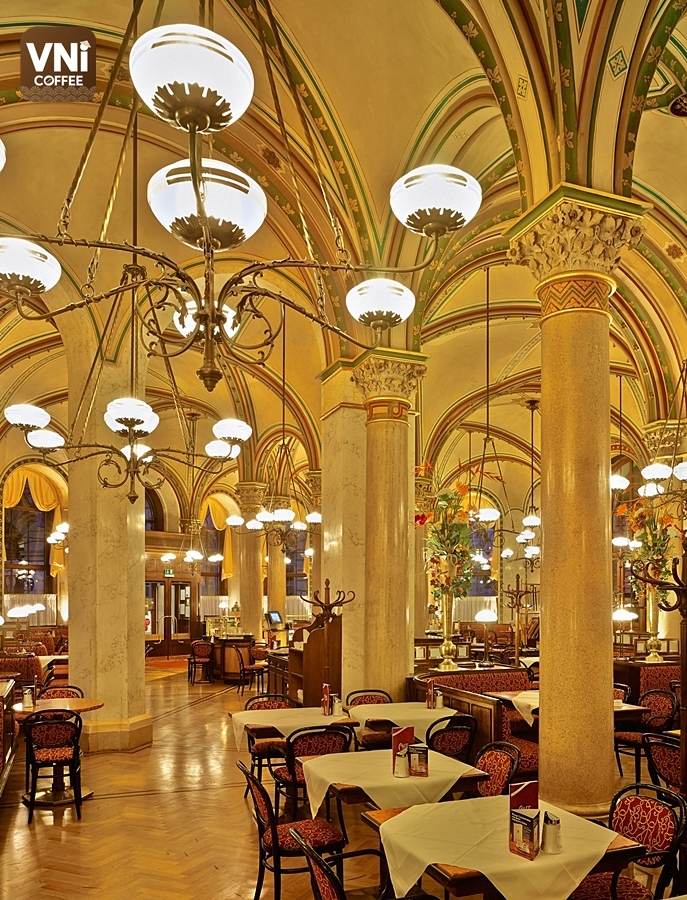 The Cafe Central should be the best coffee shop to visit in your Vienna trip. Located inside the Palais Ferstel, a palatial castle inspired by Venetian Trecento architecture, Cafe Central has been basically an Austrian institution of coffee art since 1876. There, you can immerse yourself in the historical experience while having specialty coffee, traditional Viennese dishes, and some other delicious pastries.
The only off-thing here is probably the long waiting time in a queue for a seat; however, once you get inside, everything is well-worth: classy great coffee, amazing croissants and other desserts, fancy space, respectuous staff, and there is also a pianist who plays piano live. What else? Everything you have is just at a rather reasonable price.
3. Ristorante Museo Canova Tadolini – Rome, Italy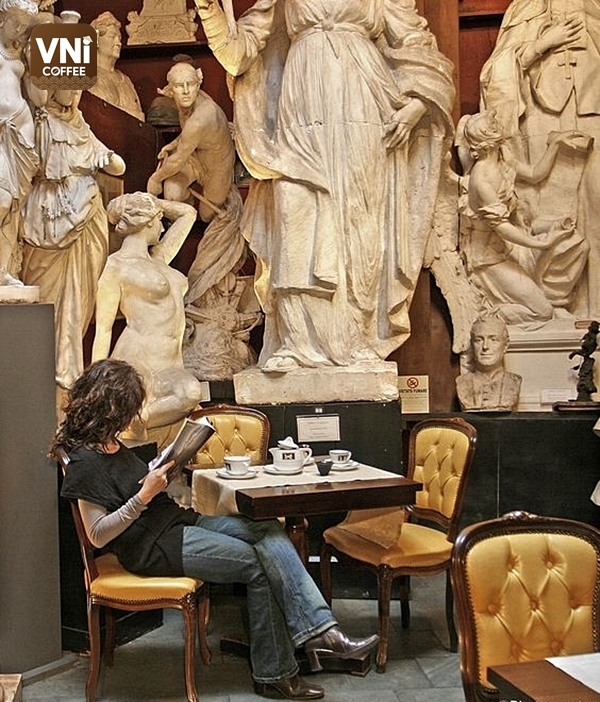 Tucked away on a quiet street near the Spanish Steps in Rome, Canova Tadolini looks like a small museum that makes any visitor a must visit. For any art interested, this cafe is definitely a fascinating place with valuable history to invite them into the story of sculptor Conova and his protege Tadolini through the stunning, large-scale works of art located throughout the space inside. Most importantly, their coffee and food are excellent with service to match. Whether starting the day with a cup of traditional coffee, a sweet cornetto, or brunches and small snacks, the cafe gives you the quality product of culture and style.
If you are looking for a memorable outing for coffee and meals in Rome, this is really a great suggestion. Typically, local people can have 3-4 cups of coffee a day, then the cafe is always crowded, so try to visit early to get a seat.
4. Truth Cafe – Cape Town, South Africa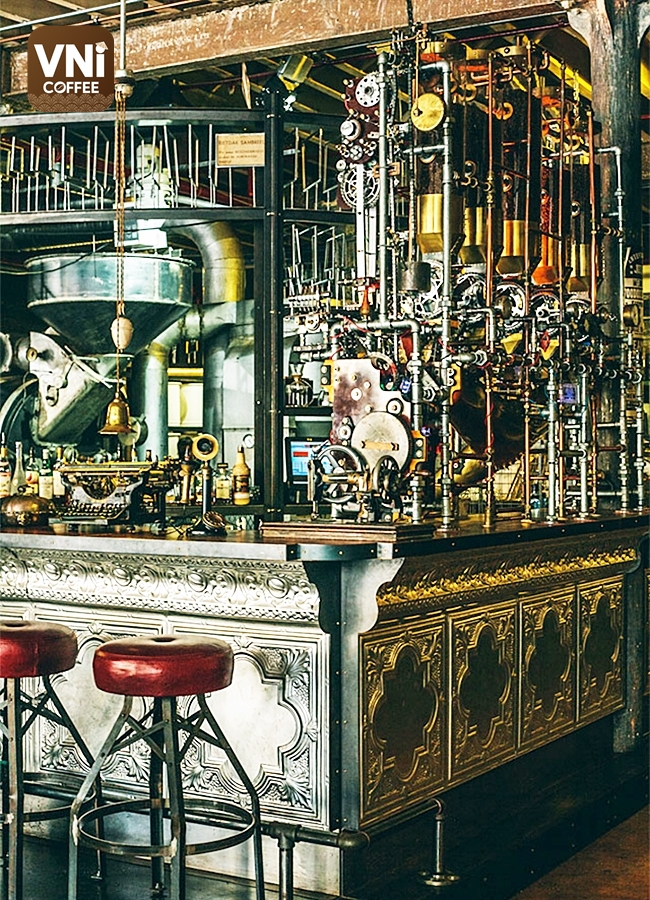 Founded in 2010, Truth Cafe proves itself as not only a simple coffeehouse, but also a great experience with perfect synergy of exceptional coffee, fun "steampunk" setting, friendly service, and various menus. This is a great example of how a theme and marketing can make a big success. The staff all dress in costumes to fit the industrial theme, and they are also quite attentive. The old-newspaper-like menu matches with the steampunk motif and has plenty of great choices. The diverse options will show you coffee is not as plain as you've ever thought.
If lucky, you even get a tiny personal tour of the roasting area and such. Due to its popularity, they can quickly run out of several items on the menu by 11 a.m daily.
5. Beachwood Cafe – Los Angeles, California, US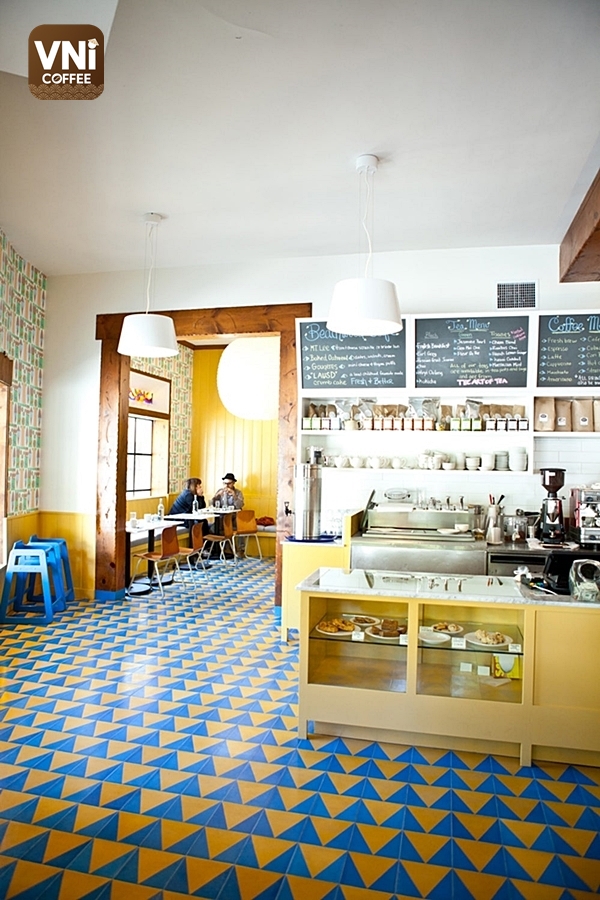 With a lively mix of canary yellow and turquoise exterior, Beachwood Cafe is such a lovely little cafe to grab a cup of coffee or breakfast right on the steep and meandering road towards the renowned Hollywood sign in LA.
The floor is designed with geometric sprawls while the walls are adorned with multi-coloured wallpaper. The exquisite woodwork and chalkboard menu do so well in adding to the otherworldly vibe of the place. There is also an outdoor seating arrangement for those who love to admire the neighborhoods. Overall, Beachwood offers an airy space with a cheerful atmosphere. Once you break away from its arresting decor, be prepared to be enchanted by the aroma of freshly brewed coffee and a varied menu with different appetising options. However, if you're in a rush, this restaurant is not for you, since its ambience is super suitable for a chill without anyone pushing you to order or to leave.
6. Crew Collective & Café – Canada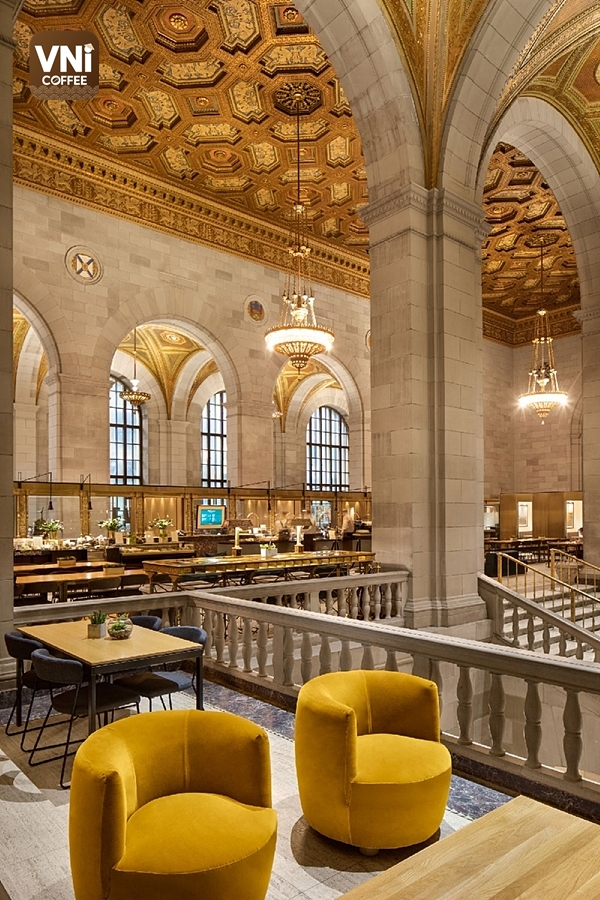 Crew Collective & Café is a fabulous coffee lounge located in an amazing old bank building with soaring ceilings and marble floors. As a result, the cafe still mang nhiều elements relevant to the bank, such as the coffee counter like the bank teller windows, elegant glass tables, communal tables, etc. Despite its large size, the cafe is surprisingly cozy and warm.
Speaking of coffee, they have both classic roasted coffee and custom blend of filter coffee, all of which are perfectly well-made by trained baristas working with local Montreal roaster Traffic Coffee. Other signature drinks to try are premium teas, lemonades, hot chocolates, and seasonal recipes. There is a selection of cakes, pastries, quiches as well, especially their croissants which are totally best to crave for.
7. Fineprint, Soho, Hong Kong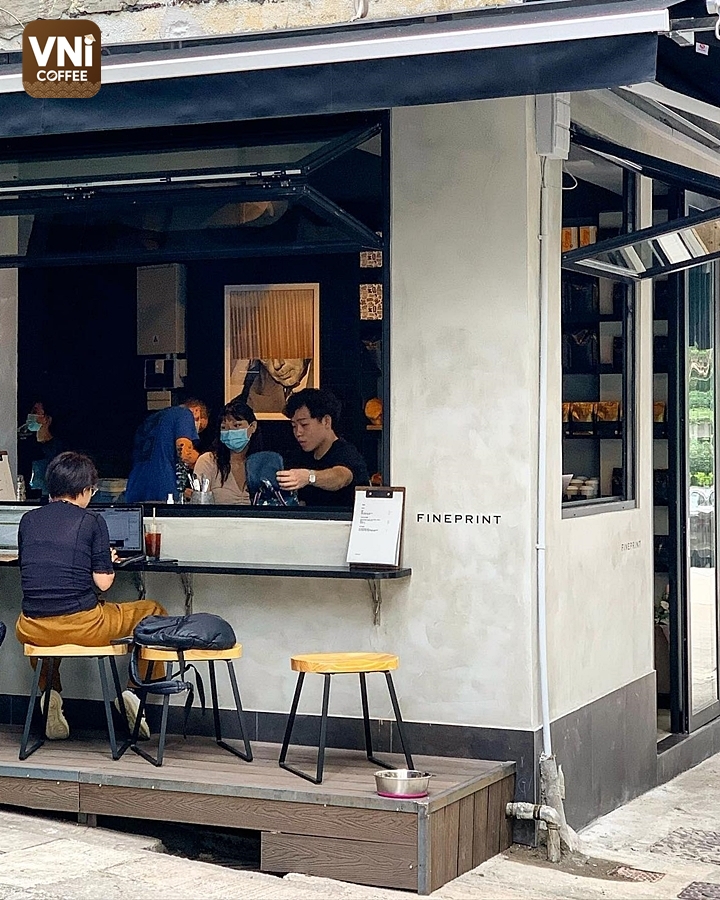 Fineprint is a tiny, modern café in Peel St in central Hong Kong, which boasts high-quality products executed to the standard source ingredients and unique flavour. Inside, the decoration is dark, with a raw, industrial look and lots of black shelving and concrete which allows it to transform into a bar in the evening. The coffee beans are roasted locally by the owner, so its freshness is guaranteed.
Besides excellent coffee, the shop also does a really nice job with freshly-baked sandwiches and toasties, (recommended: smoked salmon & avo toast) which goes very well with a cup of joe. The only issue is that it can be difficult to get a seat as there is mostly a large shared table in central.
8. La Fontaine de Belleville – Paris, France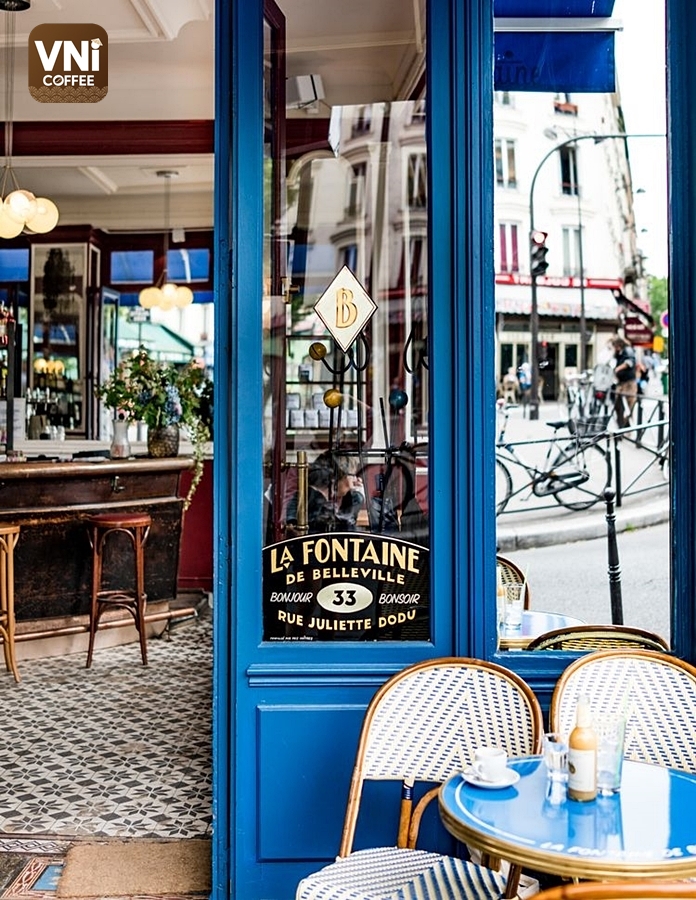 La Fontaine de Belleville is a cute specialty coffee roaster right on the Saint Martin canal in Paris. This will be an ideal spot for having modern coffee combined with antique Parisian cafe vibes while watching the locals go about the day.
Its location is superb, just on the corner of two streets. Though there are only usual tables and chairs available everywhere in Paris, the light blue color makes them fit the place much better. They serve nice simple local food in small pretty plates that add to everything needed to feel like a true Pariser enjoying their flavorful morning. No worries if you cannot speak French, the waiters and waitresses are good at suggesting customers a good choice in English.3.