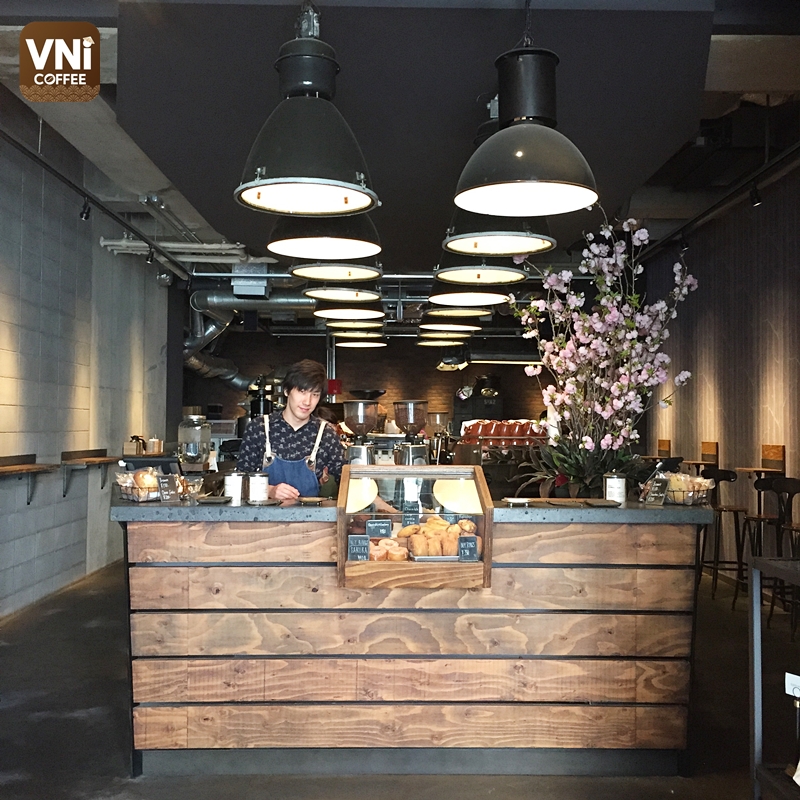 7 excellent cafe-hopping spots in Tokyo
While about 10 years ago, coffee was still something new to Land of the Rising Sun, now hundreds of new cafes bearing the bold character of the third wave coffee have strongly gotten into Japan's every corner, contributing to be the focal point to draw tourists. As Japanese is simple but dedicated, their coffee shops are cozy, close, and plain with amazing coffee types as well as excellent service. From drips to espresso-based drinks or even just milk, the baristas take their processing seriously. Want to figure out some names? Here are 7 outstanding coffee shops in Tokyo, Japan that promisingly give you a good caffeine fix.
Little Nap Coffee Stand
Address: 5-65-4 Yoyogi, Shibuya City, Tokyo
Lurking like a hole in the wall opposite Yoyogi Park, Little Nap Coffee Stand is a tiny cute cafe with just a few chairs facing a glass window, where you can lay back to watch people passing by or admire the cherry blossoms in the front park. Since it's hard to snag a seat, you can grab the brew, then cross over the road to reach the park and hang out there. Or, diners should stand and enjoy the place and chat with the friendly owner.
Contrary to the size, the cafe offers a wide range of coffees from quality beans that are roasted on the spot with a Synesso machine. Coffee is placed in a convenient small paper cup for take-away purposes. The menu is in English, so no difficulties for the non-Japanese speakers. Besides coffee, Little Nap also serves different types of desserts and quick bites. Another plus point is the staff is super friendly and very helpful with good English communication.
Camelback
Address: 42-2 Kamiyamachō, Shibuya City, Tokyo
Camelback is a hipster cafe in a tranquil neighborhood within Tokyo. It actually belongs to a chain, therefore, you can expect certain price stability and quality. There aren't any tables inside and the shop itself is pretty small. The modern interior shines with a rustic yet smooth look.
The coffee beans here are not light roasted like many other places but dark roasted more like Italian style. When you order a cup of Espresso, the shop also does the right thing when serving the coffee with a glass of sparkling water on the side, just to wash out the strong aftertaste of Espresso. The friendly baristas here truly enjoy their good time to brew the best coffee for their customers. Excellent coffees aside, their egg omelet sandwich is also a must-try; the bread was just right texture-wise, and the egg has a light wasabi flavor.
The Roastery by Nozy Coffee
Address: 5-17-13 Jingumae Shibuya City, Tokyo
It can be said that The Roastery by Nozy Coffee has it all: a perfect location in airy traffic, the owners with a strong passion for their craft, earthy ambiance, nice decor of dim lights, and friendly staff. The cafe features some tiny front-side tables to be desired for those who want to work and study. Inside it's young and cozy, outside you can watch shoppers stroll by in Harajuku's fashionable area.
When you order coffee, they often let you choose your favorite beans among a wide variety of their flavorful collection. Following that, the picked beans will be roasted on-site and put in precisely-made cup size to maximize the taste. A gorgeous cafe and delicious coffee usually come quite expensive to expect. However, their explanation about all the options at the brew bar, as well as their keenness to find out customer's thoughts do make it worth every penny.
Onibus Coffee Nakameguro
Address: 2-14-1 Kamimeguro, Meguro 153-0051 Tokyo
Onibus Coffee is founded by Atsushi Saka, who is renowned for his desire for craftsmanship and quality coffee. Onibus Coffee lies next to the Nakameguro metro station, in an old, traditional Japanese house of two floors. At the downstairs stand a massive coffee roaster Dierich, while upstairs are garden outdoor seating with intact traditional aesthetics. Right next to the cafe is a playground, so, this could be an advantage for visitors with kiddos.
This coffee shack really packs many things in a small place: diverse options of coffee bean origins from Brazil, Guatemala, Ethiopia, Kenya, and Rwanda. Whether you have a coffee blend, cold brew, or drip, all of which will satisfy your caffeine addiction.
About Life Coffee Brewers
Address: 1-19-8 Dogenzaka, Shibuya, Tokyo
About Life Coffee Brewers is actually a specialty coffee shop at the crossroads of Dogenzaka in Shibuya which was conceived by Atsushi Sakao, the founder of Onibus Coffee. As a result, its menu is also abundant with multiple types of beans from Ethiopia, Guatemala, and Brazil, as well as a number of ways you want them to be roasted – light to medium.
Not a spacious cafe with luxurious decor or an ideal place to sit and work, About Life Coffee Brewers is more suitable for those who want to grab a coffee on the go or chill in the wooden benches outside the shop. What it lacks in space it makes up for in flavor, friendly service, and the care shown in the preparation of the coffee.
Fuglen
Address: 1-16-11 Tomigaya, Shibuya, Tokyo
Fuglen is a charming cafe featuring a Norwegian retro style mixed with modern Japanese design. You can effortlessly walk to it from Shibuya train station. While in the morning, especially on the weekends, the coffee shop is super crowded, in the evening, it turns into a full bar to satisfy those wanting alcohol.
All things served tại chỗ have excellent quality, and there are also beans and highlighted pastries to buy as well. Though the specialty coffee here is also generally peerless brewed, the helpful staff and the place's vibe make the best drink experience.
Blue Bottle Coffee
Address: 1-5-5 Ebisuminami Atre Ebisu honkan 1F, Shibuya, Tokyo
Situated on the ground floor in a mall, Blue Bottle Coffee vốn dĩ là a chain from the US but bearing a Japanese minimalist theme making it a great stop. Getting a seat is almost impossible since the queue outside is long most of the days, even up to 20 people at a time. However, the professional service will not disappoint you, the menu in both English and Japanese is handed out as customers line up, then your order will be noted on POS under your name, and the baristas will call your name once the order is ready.
There is a wide selection of coffee, from filtered to hot and iced options, along with standard cookies and muffins. All the staff is extremely service-minded and able to communicate well in English. If lucky to have a seat, you are able to observe separate baristas producing the drinks with such precision and care.