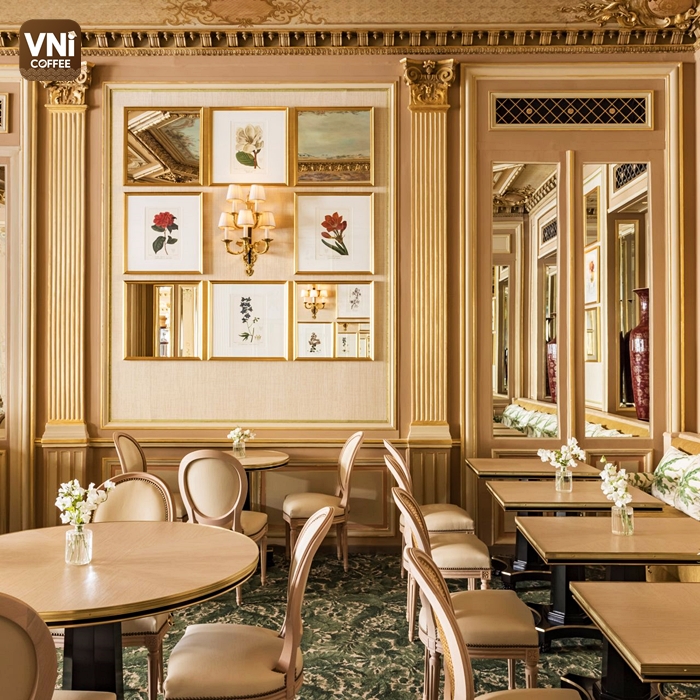 4 most luxury cafes in the world: high-class spaces for chilling out
Coffee shops are often considered a popular spot for people to enjoy a delicious cup of joe or a quick bite while chatting with friends, however, today's cafe space is gradually being more diversified to suit customers' tastes. If you are looking for high-end places with premium appetites, don't miss the list of the world's most luxurious cafes below!
Antico Caffè Greco, Rome
Address: Via Dei Condotti 86, Rome, Italy
Open in 1760, Antico Caffe Greco is the oldest bar in Rome and also the second oldest house in all of Italy after Caffé Florian in Venice. Inside are small, organized rooms with marble tables covered with red velvet and sofas. There are many famous people who have visited here such as Stendhal, Goethe, Lord Byron, Franz Liszt, Casanova or Morrissey, whose portraits still hang in the shop and so it has almost become an institute museum to keep the mark for visitors. So, even though the price is expensive, it is understandable because the shop is like a device that allows you to go back in time and experience historical culture.
The menu here is very rich and varied; There's a long list of coffees, as well as non-coffee and alcoholic beverages and delicious pastries. Some recommended dishes are Caffe Macchiato, Pistachio cake and tea biscuits.
Café de la Paix, Paris
Address: 5 Place de l'Opéra, Paris
With the Opera House as its backdrop, Cafe de la Paix, designed by renowned architect Alfred Armand in the Napoleon III style, is one of the iconic coffee shops that characterizes the Parisian cafe terraces culture. However, do not forget to look inside because the interior is super nicely-decorated. The beautiful traditional dining spaces are set up with large light-colored columns, while ceilings and statues are adorned with sky colors. Ornate dark wood furniture decorations and great lights make the place majestic and enormous.
Emile Zola, Jules Massenet, Sergei Diaghilev, Guy de Maupassant, and King Edward VII of England visited the cafe, therefore, with a rich cultural background, the price for a brunch here is not cheap, ranging from $80 for a meal. In return, the bold French-cuisine dishes at Cafe de la Paix won't disappoint you. One of the restaurant's oldest signatures (since 1862), onion soup, is still on the menu. Besides, remember to try the caramelized mille-feuille and opéra.
Ralph's Coffee, New York
Address: 888 Madison Avenue, New York City
A high-fashion brand's cafe is sure to have an upscale experience? With Ralph's Coffee by Ralph Lauren, it's true. Located on Madison Avenue, this sublime chic cafe comes in the form of a classic French house in white and green accents combined with the beautiful lighting and lovely outdoor seating area. While ordering a drink, you can catch a glimpse of the beautiful interior of the Ralph Lauren store at the entrance.
The appearance of the cafe has somewhat made the high-fashion tone a little closer. Ralph's Coffee attracts both locals in the area and tourists alike with its fine coffee and superb pastries, as well as its well-decorated space and iconic brand. However, that also means you will see the long line and the tables are always full of customers.
Emporio Armani Cafe, Dubai
Address: Level 2, Fashion Dome – Mall of the Emirates, AL Barsha 1, Dubai UAE
Located in one of the most famous commercial centers in Dubai, Emporio Armani consists of a terrace and interior area designed with classic Italian quality. Shiny black ceramic floors, silver fiberglass walls, and orange cushions evoke a stylish look at the first glance. Even the color tone of eating utensils is well-contrasted with the interior, bringing an elegant feel to your meal treat.
The menu includes traditional Italian dishes, especially pizza, don't forget to order one if you don't want to regret it. The desserts, made by quality craftsmen, also feature fancy decorations and excellent flavors.