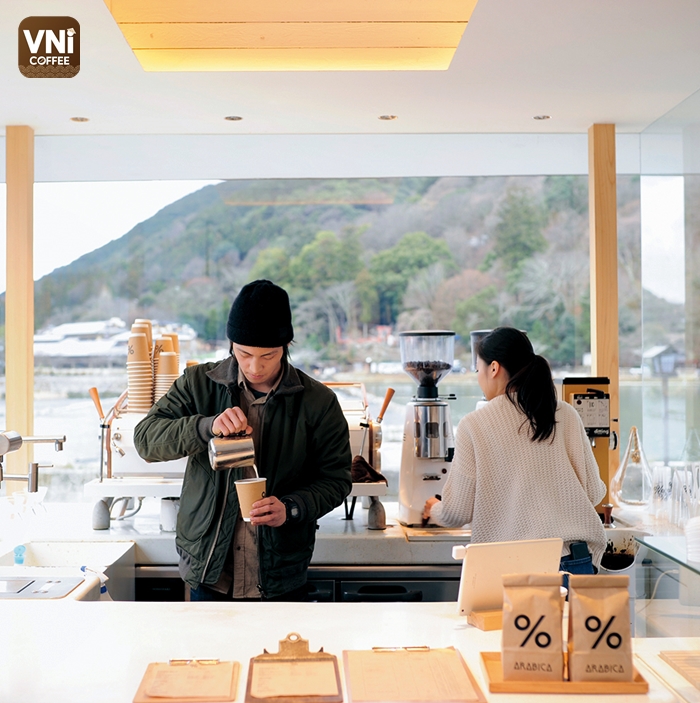 5 coffee shops you should not miss when traveling to Kyoto
Counted as the cultural capital of Japan, Kyoto is truly a great place to learn about the country's past through magnificent temples and palaces, while also seeing modern features through the city's long walking streets and shopping spots in busy local markets. If you want to stop by for a cup of hot lava and experience the vibrant coffee scene, don't forget to check out the 5 best coffee shops in Kyoto below!
Weekenders Coffee
Address: 560 Honeyanocho, Nakagyo, Kyoto
Two blocks north of Nishiki Market, nestled in the back of a parking lot, Weekenders Coffee is a pretty little white house with wooden sliding doors. This is one of the pioneering cafes for the public coffee trend in Kyoto. They roast their own nuts in-house, including the finest La Marzocco, and even some of the local cafes use their beans. Weekenders Coffee serves traditional Japanese latte, espresso, and cold beer. Except for Wednesday, the shop is open from 7:30 a.m. to 6:00 p.m. throughout the week.
% Arabica
Address: 3-47 Sagatenryuji Susukinobanacho, Ukyo, Kyoto 
% Arabica is a famous coffee chain in Japan that has now reached many countries around the world, and it is interesting that Kyoto is its hometown. Off the main road, right near Arashiyama Mountain Range and Ooi River, therefore, when coming to this cafe, the very first thing visitors have for themselves is a poetic space and fresh air, then come good % Arabica's drink grab as well as scenic walk along bamboo grove. The shop is well known in part for the two excellent handcrafted coffees being served, both pure and mixed. Customers can choose their favorite beans, from Guatemala to Kona, Ethiopia, at the bar, then ask the staff to make their own coffee.
Wife&Husband
Address: 106-6 Koyama Shiomouchikawaracho, Kita-ku, Kyoto
Looking for Instagrammable cafes in Kyoto? Don't miss the tiny coffee house by the bank of Kamo river, Wife&Husband, which features lovely country style. True to its name, the owner of the cafe is also a married couple. They hand-roast their coffee in place, accompanied by baking simple delicious cakes, of which the most recommended is milk, butter and honey toast. Aside from being a cafe, this place is also an antique shop, with picnic equipment rentals for any visitor who wants to camp on the river bank. However, their opening hours are not fixed, so check it carefully before arrival.
Brown Eyes Coffee
Address: 8-1 Ginkakujicho, Sakyo Ward, Kyoto
Brown Eyes Coffee was renovated from an old warehouse on a quiet Philosopher's Walk known for its beautiful cherry blossom setting. The design of the bar includes the old part of the previous building along with some modern minimalist furniture. The shop's menu serves traditional Japanese coffee, cocoa, and a variety of sweets such as cheese cakes, tarts, rolls, etc.. On sunny days, you can also sit back and relax in the row of seats by the door. window or a bench in front of the store to watch people go by, or order a takeaway to see the famous street.
Kurasu
Address: 552 Higashi Aburanokojicho, Shimogyo-ku, Kyoto
Located right near the station and past a shrine, Kusaru with a cozy and friendly ambiance is a cafe not to be missed when visiting Kyoto. Besides the perfect location, another factor contributing to the success of the shop is their ultimate Japanese roasting coffee, like Nagasawa, Otomo, Single O, Taoca, and experienced bartenders who are willing to talk to customers about the flavor of their favorite drink. The shop also has a small retail section of the well-designed Japanese craft coffee accouterments as it used to be an online shop selling coffee-making equipment.