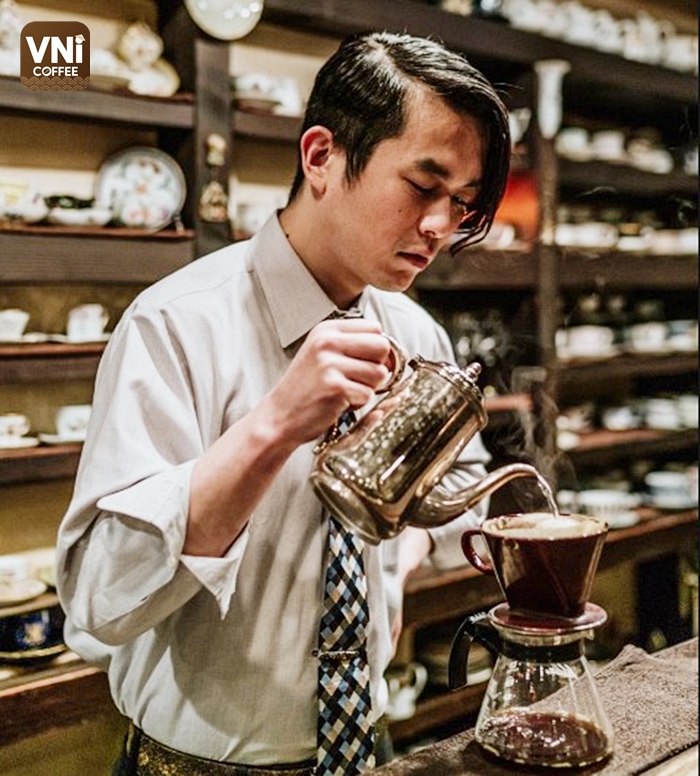 Kissaten presents the old Japanese Showa era
Japan is famous for its high-class teas, however, coffee has also long existed in the lives of the people here. Besides many modern third-wave coffee houses, Kissaten, old-fashioned interior cafes, will make you feel like traveling back to the Showa era with cups of coffee brewed in the traditional way, along with that are laid back enjoying a cake in a smoky atmosphere.
What is Kissaten?
When Japan's Sakoku policy came to an end in 1853, the country quickly adopted the flow of Western culture – including coffee, through the mass media. The pubs that are inspired by the US and Europe, but mixed with Japanese traditions were born. Specifically, at the beginning of the Showa era (1926-1989), those cafes were called Kissaten.
Kissaten is a quiet place to drink coffee and also a gathering spot for writers, artists, and intellectuals. It is also seen as a third place separate from the first one being family and the second one being business, for each person to enjoy their own fun. Kissaten usually serves alcoholic drinks, coffee, tea, cocoa, and various soft drinks. In urban areas, people often head to Kissaten for breakfast which is usually thick toast, hard-boiled or fried eggs, a piece of ham or bacon, and a cup of tea or coffee.
In the past, Kissaten was a place for Japanese salarymen to rest between constant meetings, students staying up all night to study before each exam, and innovators seeking their inspiration with a few cigarettes. Ever since Kissaten had different meanings for different people. For some, it was a taste of international culture. For others, it was a peaceful space to listen to jazz music at a time when personal music players were rare. It was also the perfect breakfast and dinner spot for office workers, with eggs, toast, salad, and coffee.
Where coffee is created at the hands of artists
For some Japanese, they still love the feeling of sitting comfortably in an ancient space with the smell of cigarettes, watching and enjoying a cup of coffee made by the skillful baristas. The important thing to create the quality of a cup of coffee is the bean selection. All sweets found in the display fridge will be brought out on matching plates with the utmost care.
The traditional coffee served at Kissatens was called "Hanshi no Kohi – Warrior's Coffee", in which the beans were roasted until turning almost black, coarsely ground, and packaged in hemp sacks, then soaked in hot water. Nowadays, coffee in Kissaten is usually brewed by automatic drippers that form a whole pot or by hand dripped into individual cups. Sometimes they even reheat cooled coffee in a small pot, that's why you can get heterogeneous coffees.
If you're just ordering a latte, it might come with some peanuts, arare, or a bite-sized pre packaged pastry. You are served at the table, and there will be no "To-Go". Each customer will receive a glass of cold water and a damp towel to keep them cool in the summer and warm in the winter. Customers do not need to order food as soon as they enter the restaurant, but can order anytime when they really want.
Although not in vogue, Kissaten is still a choice for older people who love nostalgia, young people who want to understand the atmosphere of the old days, who want to enjoy a brewed coffee craft system, or simply those who want to separate from the hustle and bustle to return to what belongs to the original.
Top three remained Kissatens in Japan
Today, the rise of coffee chains like Starbucks and modern coffee shops has caused Kissaten to be gradually forgotten. For today's young generation, they expect very different things from coffee shops than they did in the 20th century. The number of Kissatens has dropped from thousands to just hundreds in the past century. Here are three notable Kissatens to visit in Tokyo:
Café Bon
Address: 3-23-1 Shinjuku, Shinjuku Ward, Tokyo
This cafe with wooden space is marked by a cabinet with a variety of colorful cups and plates in classic style. These sets will be served to guests, depending on the type of drink that the customer orders. If interested, you can also learn the story of each cup in the shop.
Moon Factory Coffee
Address: 2-15-3 Terao Bldg. 2F, Sangenjaya, Setagaya Ward, Tokyo
With the crescent moon symbol, Moon Factory Coffee is the perfect blend of classic and modern. The space is illuminated by natural light from the door frames, and the interior uses gray and brown tones to create a mysterious but warm feeling, reminiscent of the color of the moon.
Café de L'Ambre
Address: 8-10-15 Ginza, Chuo Ward, Tokyo
Considered one of the oldest cafes in the Ginza area, it is no exaggeration to say that this cafe is a historical site. Through the small wooden door, you are instantly thrown back to the last century. Café De L'Ambre preserves most of the original furniture as well as a sacred passion for serving good coffee. The dark wooden tables and bar seem to have been there for centuries, and they are illuminated by a beautiful stained glass lamp, specially handcrafted for the bar. The atmosphere truly gives a feel of Kissaten's heyday.
Kissaten is a quite place where you find the old Japanese drinking features