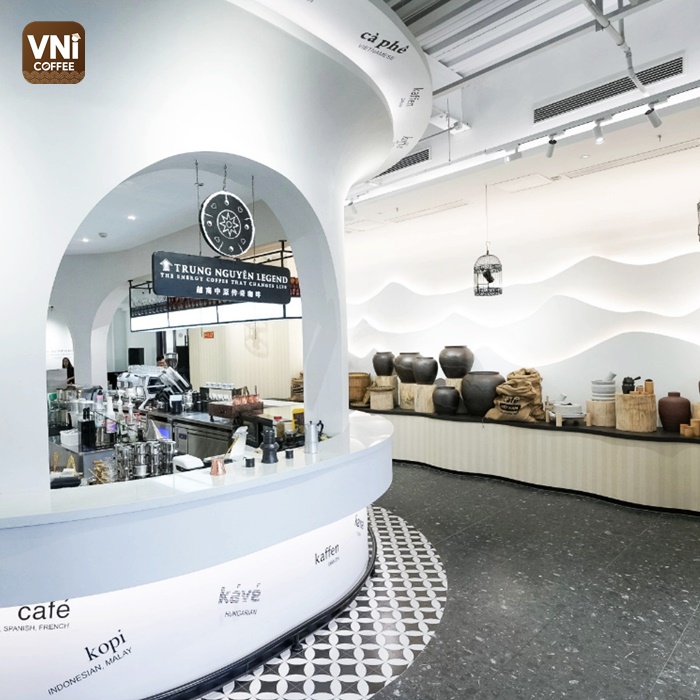 Vietnam's Trung Nguyen Legend opens their first coffee store in Shanghai
After 10 years of exporting and nearly 5 years of opening a representative office in China, Trung Nguyen Legend – Vietnam's leading coffee brand, officially opened their first global coffee store at Taikoo Hui Trade Center, Shanghai on September 21, 2022. Exquisite, meditative, and full of Vietnamese traditions are what we feel when visiting this place.
Trung Nguyen Legend, Vietnam's iconic coffee
Launched in 1996, within just 5 years, from a small factory in Buon Ma Thuot, Trung Nguyen Legend has been present in all parts of the country and mentioned in numerous areas worldwide. Then, after the next 20 years, Trung Nguyen miraculously succeeded in building the iconic leading brand of Vietnamese coffee.
The company has created a style of enjoying coffee at its stores, in which customers can not only choose quality coffee products but also be instructed on how to prepare and enjoy coffee. This is also the first time customers have experienced the standard coffee, see the typical difference between Robusta and Arabica beans, between Culi Robusta and Se coffee, Weasel coffee, etc. The creativity and quality of Trung Nguyen Legend's products at that time shaped the taste of delicious coffee among Vietnamese people.
What's inside Trung Nguyen Legend's coffee store in Shanghai?
In China, Trung Nguyen Legend's G7 coffee has become the most popular and trusted instant coffee brand, awakening from the world's best source of Robusta. Seizing this advantage, the company has launched their first international coffee store in the bustling downtown area at 699, Nanjing, Shanghai, as a step to bring Vietnamese coffee closer to the world.
The shop is designed with delicate black and white tones. Signs are designed simply and mainly in Vietnamese. The patterns and decorations are all made from familiar traditional Vietnamese substances, such as volcanic rock, red basalt soil, pottery, bamboo, and rattan, showing a good combination of local elements and modern features.
There are so many things to order on the menu. Customers will have a chance to try Vietnamese traditional filter coffee, iced milk coffee, egg coffee, and so on. The place is not simply a cafe to come and go, yet more like an art exhibition for coffee lovers. You can learn about coffee trends and types that have been considered by UNESCO as an intangible heritage of humanity, like Turkish Coffee, Sparkling Coffee, and Western Cold Brew.
Additionally, you will also experience tasting sessions of three coffee civilizations Ottoman – Roman – Zen trained by leading barista experts. In particular, the highlight is Zen coffee – a cultural and artistic coffee product created by Trung Nguyen Legend. Zen Coffee is a typical coffee civilization, converging the Orient's quintessence and philosophy. It is considered a catalytic energy source to create stillness and clarity in every moment of people mindfully, contemplating, and acquisiting knowledge from human civilization to reach true wealth and happiness.
Besides drinks, Trung Nguyen Legend also offers a variety of popular Vietnamese dishes: Pho, Banh Mi, Hanoi Bun Cha, Hue Beef Noodles, etc.