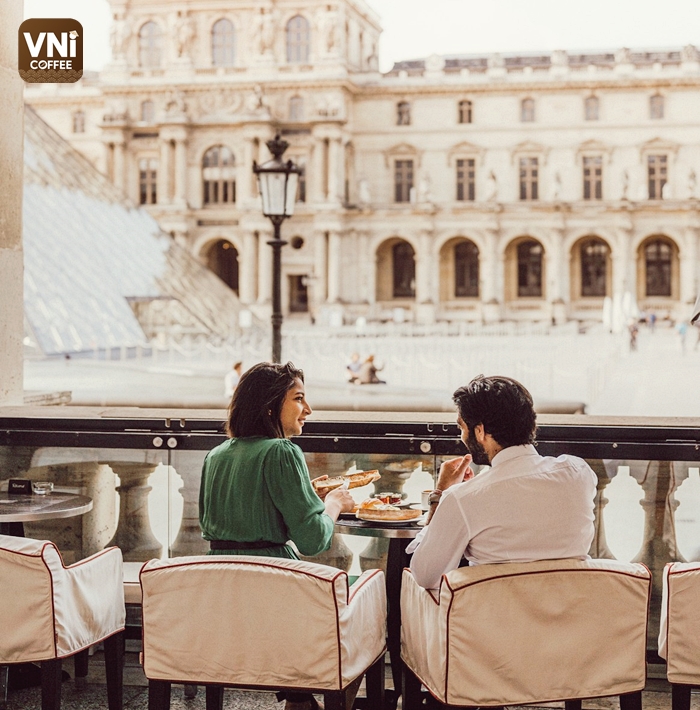 5 most romantic cafes in Paris for lovey-dovey couple dates
After the first cafe Régence opened in 1688 around the Palais-Royal area, and the Café Procope, operated one year later, on the left bank of the Seine river, the cafe culture quickly became an iconic part of Paris. Today, coffee shops are present all over the city and serve the customers with distinctive characteristics in such neighborhoods; for example, a place for students gathering, a place mainly for tourists, a place of historical significance, or ones for literature lovers, and of course, also a place for couples. Looking for a lovely spot for your upcoming passionate date? Read on our following list of best romantic cafes in Paris that suit all your tastes and budgets!
La Palette
Address: 43 Rue de Seine
More than just a charming cafe, La Palette is also considered one of the symbols in Paris. It is the ideal dating place for countless art school students as well as Parisian artists – Cézanne, Picasso, Braque, then Ernest Hemingway, Jim Morrison, Harrison Ford, and Julia Roberts. The shop has a prime location, with the peaceful Seine riverbank, Jacques Callot street, an ancient art school, and exhibitions surrounding nearby.
The space inside is divided into two rooms, a bar serving drinks and the other room for guests to enjoy their coffee and snacks while admiring the decorated artworks. Interestingly, La Palette also features a list of the finest wines to offer customers for their special date.
Cafe Marly
Address: 93 Rue De Rivoli
The foremost thing to make Café Marly is a must for your romantic date is the incredible view it offers. This spot is both an upscale brasserie and literary cafe, situated in a grand suite of rooms within the square at the Louvre, which means you can enjoy the phenomenal views of the Louvre's pyramid and people passing by while dining.
Besides the soothing ambiance and unbeaten view, Café Marly also serves different elaborate savory dishes, superb desserts, together with a wide range of drink options – cappuccino, cocktails, fresh juice, herbal tea, etc.
Cafe De La Paix
Address: 5 Place de l'Opéra
The fact that this cafe has been around since 1862 is a testament to their quality. Tucked away in the center of the Opera area on a busy intersection overlooking the Acadamie Nationale De Musique opposite, Cafe De La Paix has elements of what to expect to see in French palaces: gilded columns and richly painted ceilings. The inside is a traditional dining space, while the outside terrace is super busy and ideal to watch the world go by with a coffee.
They give a tremendous number of traditional dining options available in Paris, in which Tartare steak, pasta, and golden Girolles are truly marvelous. Note that they also have vegan and vegetarian food.
Le Jardin Du Petit Palais
Address: Avenue Winston Churchill
Le Petit Palais is a spacious café with a warm contemporary décor in the heart of the museum, opening onto a superb enclosed garden. The setting is lovely, with many trees, palms and pools edged in mosaic. You can sit either in the cafe or in the garden courtyard.
The menu's selection comes with an entree, dessert, coffees, and beverages, including Vitamin water, Arizona iced green tea, as well as delicious lemonades and sodas. They also offer various combinations, such as the pasta set, tarte salée set, and salad set, all of which go with one main savory dish and a dessert – fruits, yogurt, or madeleine.
Le Zimmer
Address: 1 Place du Chatelet
Le Zimmer is a great spot to pop in for a memorable date night on the way to Louvre or elsewhere in central Paris. The place itself has a long tradition, started in 1896, and a history of providing a broad cafe-restaurant menu with Alsacian touch – velvet banquettes, painted ornate ceilings, lamps with fringe, marble stairs, gilded mirrors, painted wood ceilings, and velour drapery.
The ambiance is old style but warm and it was packed with people enjoying themselves. Aside from Alsatian dishes, you can try plenty of good traditional French cuisine. For the drinks, wines and brasserie classics are perfect for a full meal, meanwhile, there are also cold beverages and coffee choices.