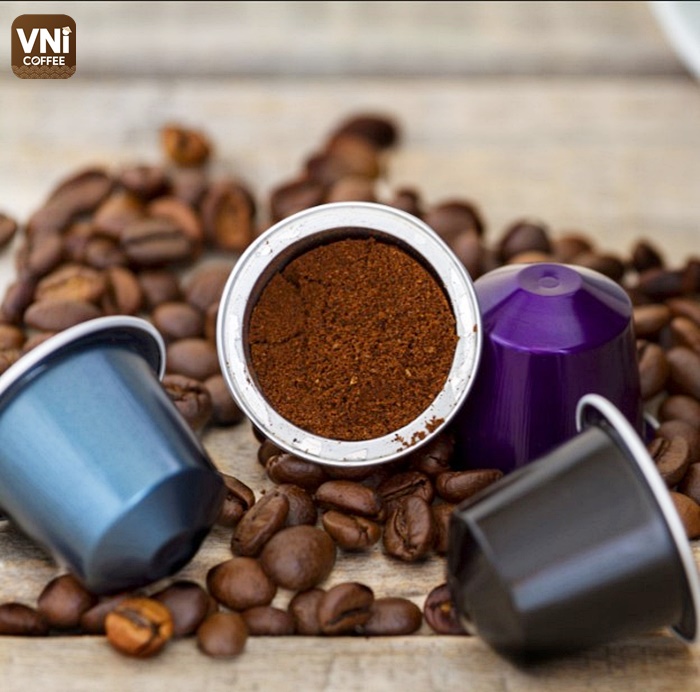 Coffee capsules – the caffeine essence encapsulated in a mini compact cap
Easy and quick to get a cup of the right Espresso flavor without the steps of grinding the beans, coffee capsules should be the perfect choice for offices or small families.
What are Coffee Capsules?
Coffee capsules are pre-roasted and finely ground coffee, then they will be compressed into small plastic capsules, with a height of about 4cm. Coffee capsules are easily produced for high-end coffee machines to create delicious Espresso cups.
How to use Coffee Capsules
To use these capsules, we need professional specialized coffee machines, and things will get easier after that.
Firstly, you need to fill the machine's reservoir with water, which will then heat and pressurize the liquid. Following that, the machine pumps water through the ground coffee inside the capsule to release its flavor. From here, the coffee drips down the cup, with the grounds strained by the filter at the bottom of the tablet.
A coffee capsule contains about 7g of ground coffee equally produces 1 cup of 30ml.
The taste
The coffee capsule's taste is basically delicious, meeting the general enjoyment needs of coffee lovers. Many roasting levels suit each personal favorite – light roasts, medium roasts, and dark roasts. The taste is also extremely variable with notes of fruit, bread, chocolate, honey, and so on.
Generally, the variety of flavors and roasting types has somewhat salvaged the drawback of their machine limitations.
Pros
Simpler and more convenient to use, without too much effort and time
Rich and wonderful taste
Variety of flavors
Cons
Can't be brewed manually, need to invest in a dedicated coffee machine
High price
A coffee machine is only compatible with a single type of capsule (the size of the capsule must fit the filter of the coffee maker)
The difference between Coffee Capsules and Coffee Pods
Both Coffee Capsules and Coffee Pods are new preparation solution in today's era, which is convenient and suitable for a busy life. Following the development trend and to meet the needs of users, they become more and more diverse. The two products have a better taste than filter coffee and are not too different when compared to espresso.
Coffee Capsules are extremely fine ground coffee compressed in small plastic capsules, with a height of about 4cm, and sealed with a silver aluminum shell. These capsules are only compatible with specific coffee machines.
Coffee Pods have the same packaging as tea bags, except that they are round, about 44mm in diameter. The outer layer of filter paper of a pod is designed according to ESE standards, the inside contains about 7 grams of pre-ground coffee powder.