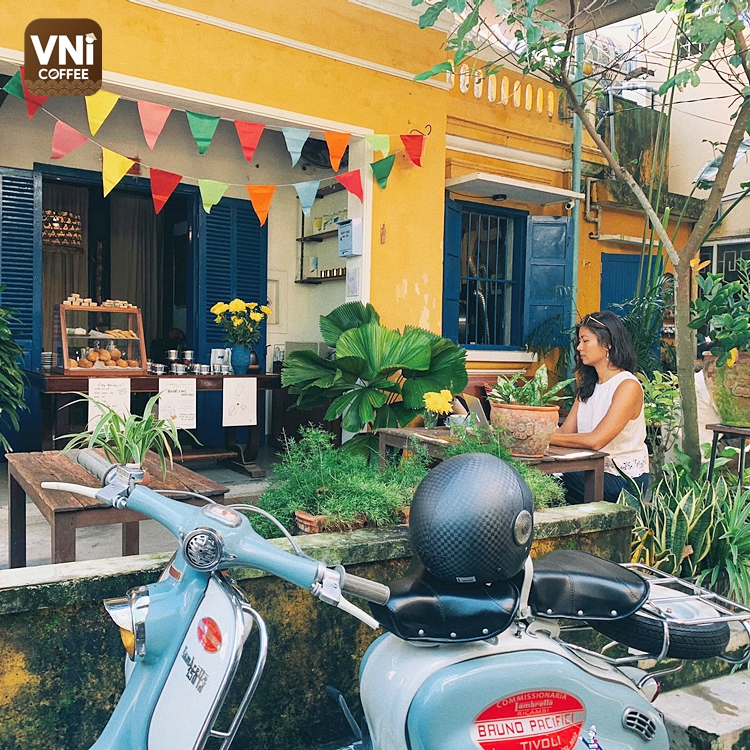 Top cafes in Hoi An for local authentic coffee experience
Prominent in the Central tourist route, Hoi An Ancient Town appears as a rustic spot bringing tranquility and vintage vibes for visitors to slowly enjoy the authentic beauty of Vietnam countryside. These features even go in the cafes here, from street stalls to branding shops, all of which boast the finest ambiance blending East Asian designs with a bit of Western Europe. Not only that, their specialty coffee, which includes Italian espresso-based and very local styles – ca phe den da and ca phe sua, along with other quirky drinks, do give customers a whole new coffee experience. Here is the list of best cafes in Hoi An we narrowed down to give you an idea of what caffeine refreshment is going on here.
Hoi An Roastery – Roastery 2
Address: 685 Hai Ba Trung, Hoi An
Hoi An Roastery – Roastery 2 is one of seven branches of a popular brand in the town; therefore, you could expect a proper service of the same level of comfort and quality at reasonable prices. The facility tucked at the edge of town has an inviting space looking out to the scenic street. The highlight is two large gold-painted wooden columns in front, connecting with a dome made of flowering vines. The second floor of the shop is designed with a balcony decorated with small colorful lanterns. Like its name, Hoi An Roastery – Roastery 2 is a coffee shop serving roasted and ground coffee on site. From the moment you step inside, you will immediately be captivated by the aroma of coffee.
The menu is fixed and quite diverse, including espresso coffee, steeping coffee to Vietnamese coffee, which ranges from 40,000 to 80,000 VND. They also offer good Asian breakfast and lunch, as well as some types of pastries.
Faifo Coffee
Address: 130 Tran Phu, Hoi An
The shop is built on a 2-story house with a warm yellow-tone paint space with simple interior decoration in neoclassical style, a little bit dark, however, romantic. While downstairs is a bar and coffee roasting workshop, and the second floor, with its gothic decor, is a rather warm place to enjoy a drink while catching the sun, their iconic rooftop – also the most favorable spot for Instagrammable opportunities. The most suitable time to come here is at sunset when the afternoon light is golden, covering the red tile roof and the lanterns begin to light up. From here, visitors can see the town from above.
Faifo coffees range from espresso, latte, cappuccino to Vietnamese-style coffee, exotic juices, and smoothies. Due to its popularity, customers might have to wait in a long line for a drink serve.
Cocobox Juice Bar & Cafe
Address: 94 Le Loi, Hoi An
This cute cafe by the river is built on the concept of a cafe combined with a farm shop selling organic agricultural products – coffee powder, coconut oil, soaps, honey, etc. It features an open space with deep brown tones highlighted by yellow lights, creating a warm feeling, the upstairs is fresher than the ground floor. There is a bar in the middle adjacent to wooden shelves stocked with fresh fruit and packaged goods.
In addition to coffees and cold-pressed juices, the shop's originality is evident in its organic drinks made from fresh coconuts, which are vegetarian, vegan, and gluten-free. Some recommended drinks are An Bang Colada, Good Morning Hoi An, Relax Thu Bon, etc. Cocobox mainly uses English in their menus and brands, together with organic products, so the price range may be higher than other cafes in Hoi An, specifically from 75,000 -120,000 VND.
Bonte Cafe
Address: 99, Le Hong Phong, Hoi An
Although located on the outskirts of the town, thanks to its smart, unique design with tempting spaces surrounded by green trees, Bonte Cafe is still a favorite hangout spot for nature lovers. The coffee shop consists of 3 floors; the first floor is a bar where you can witness baristas making your order and an open garden, fenced by small leafy trees, shrubs, vines, and flowers, which both cover the sunlight, humidify, along with keeping the atmosphere constantly fresh; the second floor has a tree-lined balcony where visitors can take a seat enjoying the slow pace of Hoi An life; the quiet third floor with some long tables and chairs is utterly suitable for working and studying.
The cafe's menu ranges from Vietnamese to Italian style coffees, cold brew, tea, fruit juices, and cakes, with prices starting from 18,000 to 60,000 VND.
Reaching Out Tea House
Address: 131 Tran Phu, Hoi An
Reaching Out Tea House is probably the most interesting name in the list of best cafes in Hoi An. Here, the team has taken the hearing impaired to create the beauty of silence while enjoying coffee or tea and watching the bustling street outside. The staff are attentive, friendly, and you must understand the way to communicate with them through handwritten notes or by these blocks with commonly used messages.
This coffee house offers different types of tea, coffee, and cookies in the form of a solo serve or tasting set. If you are not sure what kind of coffee to go for, you can order a set of three coffee packages at 135,000 VND, including "Local Coffee", "Yin-yang", and "A good day". They also sell souvenirs and beautiful handmade jewelry at the back.
Phin Espresso & Drip (Original)
Address: 132/7 Tran Phu, Hoi An
Similar to Hoi An Roastery, Phin Coffee also has numerous branches scattered around the town, and this coffee shop hidden in an alley on Tran Phu street is the original branch. Entering is a lovely spacious courtyard which is well-shared, with picnic-style tables and chairs all over the places, so customers could pick their favorite seating right away. The baristas at Phin Coffee are extremely knowledgeable and enthusiastic enough to describe in detail the preparation process and how to distinguish different coffee types for their customers.
The word "Phin" in the shop's name refers to a brewing method, or tool, for making traditional coffee in Vietnam. With a phin coffee, you can drink it hot, iced, or with condensed milk, for only 50,000 VND. Some other famous variations of Vietnam specialty coffee – egg coffee, coconut coffee, and peanut butter coffee – are also good to try. In addition, the menu also offers other playful creations, including coffee cocktails, coconut egg coffee with rum, etc.
The Espresso Station
Address: 28/2 Tran Hung Dao
Located in a thin hall, The Espresso Station is considered a creative gem offering a new variety of fancy coffees different from other Hoi An's cafes. The space is decorated with several picnic benches and stools to sit on, surrounded by mustard walls with cobalt blue accents.
They have all kinds of Vietnamese traditional coffee and its variations; however, their iced coffee really blows your mind. It's basically Vietnamese black coffee served with espresso ice cubes and a glass of steamed milk, covered with cocoa powder on top. Other creations for caffeine-free people are beetroot and blueberry coffee. The price of drinks here ranges from 50,000 – 80,000 VND. The shop has a relatively early closing time, at 5 pm, so try to arrive earlier in the day to enjoy the full experience.