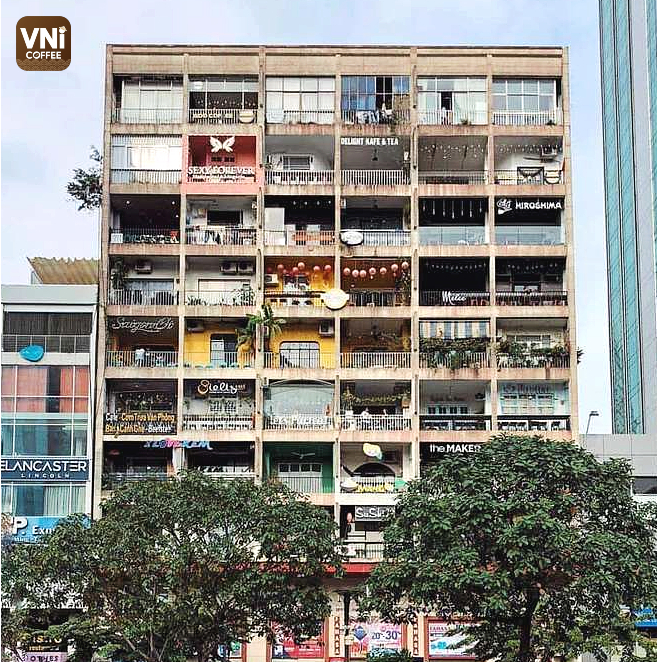 Saigon's café apartments embody a mini paradise of cafeterias in the city center
Aside from the iconic streetside cafes with simple wooden or plastic tables and chairs where Saigonese often huddle for a quick cup of joe before heading to work, there are still quirky coffee shops offering cozy ambiance, stunning views overlooking city streets, creative decor, and good products, all of which are designed by artistic Vietnamese youth. If you are looking for such places as a cafe hopping and Instagrammable photography opt city center, The Café Apartment is a must-visit destination for you.
About The Cafe Apartment
Located at 42 Nguyen Hue, facing Saigon River, this nine-storey apartment was built in the early 1960s to be used as a home for high-ranking government officials. But after 1975, when the Vietnam – America war ended, the building gradually transformed equally with the change of the city; especially when Nguyen Hue street was renovated, the flats in the building were also re-designed to become a complex of bookstores, coffee shops, handicraft shops, working spaces, etc.
Contrary to the hustle and bustle of the downtown area, these tiny business huts here bear a retro, monotonic space yet cozy and peaceful. The apartment complex is divided into 3 zones, A, B, and C; in which, most cafes and shops will be concentrated mainly in zone A, from third floor upwards. Tea and coffee addicts or even shopaholics will find plenty of fun activities to do while chilling and admiring the scenery on Nguyen Hue Walking Street.
Those recommendable spots in The Café Apartment below will be a completely new Saigon's coffee culture experience for you:
Sai Gon Oi
Located on the 5th floor, the space of Sai Gon Oi is quite small but still airy, along with its youthful design and neoclassical interior layout which has attracted numerous visitors. In addition to a coffee bar area, there is also a small room selling handmade lipsticks and fragrance bags, and another selling local-brand clothes. Customers can either sit in the room or on the balcony to watch the street lights shimmering on the pedestrian street and the surrounding high-rise buildings. The attentive service staff is also a plus. Every order has a cute sign with the customer's name on it – this has created an Instagram craze for the shop.
Address: 5th floor, 42 Nguyen Hue, District 1, HCMC
Reference price: 40,000 – 50,000 VND
Boo Coffee
Boo Coffee occupies the 8th and 9th floors of apartment 42 Nguyen Hue. Both floors are not too wide but reasonably designed. Outside the balcony, there is a small row of chairs with a long table for guests to sit and enjoy the panoramic view of the pedestrian street from above. The menu here includes a few basic drinks, in which, the most prominent is Cotton Milk Tea with the price of 75,000 VND. The cotton part is shaped like a cute bear's head, while the milk tea is not too sweet. The staff is friendly and attentive. The shop seems a favorite spot of multiple locals, especially students.
Address: 8th and 9th floor, 42 Nguyen Hue, District 1, HCMC
Reference price: 30,000 -50. 000 VND
Partea – English Tea Room
If you like hot, aromatic teas and need to have a flavorful tea break while watching the busy scene of the pedestrian street, then Partea will be the ideal place for you. The cafe is located on the 4th floor of this apartment complex; as soon as you step into the shop, you will immediately experience the English countryside style. Many wall-mounted shelves display a full range of colorful and aristocratic teapots, plates, accompanied by a simplified design that takes white color as the main tone. There will be more than 30 different types of tea to choose from with various cake types. The space here is rather quiet with an extremely relaxing aroma from the oil diffuser.
Address: 4th floor, 42 Nguyen Hue, District 1, HCMC
Reference price: 80,000 – 150,000 VND
Mêlee
Melee is a combination of cafe and restaurant. Unlike other cafes in apartment 42 Nguyen Hue, Melee has a stylish decoration, with the main colors of grey and black, giving a minimalist style yet still swag and luxury. In addition to typical Saigon coffees, the most famous dish is the chicken wings with 3 flavors: spicy, cheese, and mayonnaise. The cafe also plays fancy music to give customers a vibrant meal date of delicious food, nice view, and good music.
Address: 6th floor, 42 Nguyen Hue, District 1, HCMC
Reference price: 30,000 – 200,000 VND
Orientea
If Partea is for those who like afternoon tea in British aristocratic style, then Orientea is the rendezvous for Asian souls, especially those who like Chinese and Japanese tea styles. Located on the seventh floor, only 20 square meters, but the skillful arrangement and reasonable layout offer the shop an airy, inviting ambiance. There are more than 40 different natural tea flavors to be mixed into 5 groups of hot or cold with numerous health benefits, such as beautiful skin, slimming, and anti-aging. In addition to enjoying tea, here also sells pretty small items – cups, kettles, trays, etc. A pot of tea for two people usually costs from 150,000 VND, while the pot for one will have 80,000 VND.
Address: 7th floor, 42 Nguyen Hue, District 1, HCMC
Reference price: 80,000 – 150,000 VND
Thinker and Dreamer
Thinker and Dreamer is like a dreamy Paris coffee – with white painted walls, wooden tables, and chairs, as well as many tree pots – overlooking the banks of the Saigon River. Although the area is not large, the cafe still creates a comfortable feeling for customers who want to study or work in the chill music background. They mainly sell coffees and detox drinks. The milk coffee here retains the original of the famous Saigon iced milk coffee bringing a great combination of bitter and sweet flavor enough to awaken your taste buds in the first sip.
Address: 3rd & 4th floor, 42 Nguyen Hue, District 1, HCMC
Reference price: 50,000 – 100,000 VND
The Letter
Like a small corner of Hoi An in the heart of the city, The Letter is decorated with red lanterns on pale yellow walls, creating a retro and classic look. There is also a small shop selling Japanese ceramics and vintage clothes. The space of the bar is rather quiet, different from the noisy walking street outside, suitable to enjoy a drink while swaying to the gentle music. Don't forget to note the three most worth-trying dishes at the shop: tropical tea, pomegranate tea, and fried chicken with a variety of sauces. In addition, the menu includes multiple baked cakes, beverages, and other savory dishes.
Address: 8th floor, 42 Nguyen Hue, District 1, HCMC
Reference price: 50,000 – 80,000 VND