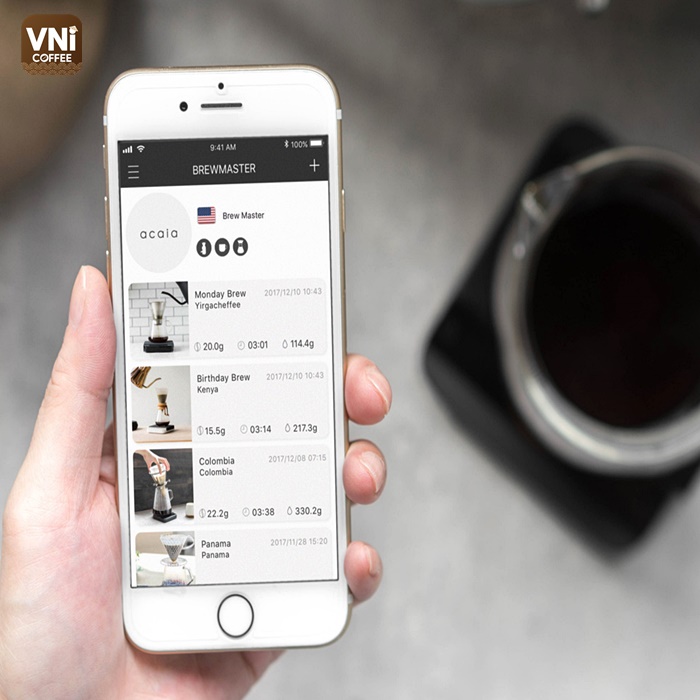 Home coffee brewing won't be hard with these 5 apps
Bartending is an art, the bartender is an artist. The path to becoming a skillful home barista may not be easy for an amateur like you. Take your time mixing a random recipe or giving up your hobby of mixing, as we are here to suggest you top 6 free mobile apps that assist you in making better cups of joe.
With each application, you will find a different brewing style. Depending on your stage in the process of learning to make coffee yourself, these apps offer distinct effects.
Filtru
Available for iOS and Android
Filtru is the best and most genuine coffee-making app today, which supports you to make coffee with all kinds of tools, like Chemex, V60, Aeropress, Moka Pot, and many more. All you need to do is select the brew method with the used tool on the main screen, then the app will automatically provide the recipe for you with clear steps. There's also a timer to let you know exactly when to pour or wait to get the best flavor with the dispenser you have. Best of all, in the app, there is a collection of quite a few different recipes from baristas, coffee brands, or celebrities in the coffee industry, like James Hoffmann and Onyx Coffee.
Brew Timer
Available for iOS and Android
The best thing about Brewtimer is that it contains more than 20 recipes for 14 different brewers. Brew Timer also makes it easy to create your recipes, with the amount of water, coffee, and roasting level being tracked automatically. The app also lets you jot down your own notes to capture thoughts on technique and taste for later. Once you've created a recipe, you can even share it with your friends. The next time you want to brew your perfect cup, Brew Timer will help you repeat it. Plus, you can track everything from Name and Roaster to more specific details like Varietal and Harvest Date by scanning your coffee bag.
Acaia Coffee
Available for iOS and Android
With Acaia Coffee, you can use all aspects of the coffee browser for free. You can connect the app to Acaia scales, or use it as a standalone app. The app is totally useful for beginners because you will get to grips with brewing quickly without having to enter data first. Once done, Acaia will save a visual graph of your basic brewing data. Additionally, it has a converter to assist you in determining the brew-to-water ratio, counting time, and storage places where you can take notes about the types of coffee you have, including the brewhouse production, area, and process as well as implementation details.
Bean Conqueror
Available for iOS and Android
Bean Conquer works like a home brewing notebook, but more than a regular notebook, you can record, most intuitively and easily, all the information about your chosen type of coffee, the grind size, the roast level, and the things you did when brewing. In addition to a guide to the coffee-making process, the app also provides information on cupping. Instead of focusing on a variety of recipes, Bean Conquer mainly concentrates on statistics and tells you how much coffee you use monthly, and daily, results per brew, as well as notes of each brew time. Another great feature is that the app can describe the bean and all the details of the bean including the image.
Coffee Dice
Available for iOS only
If you're looking for fun and surprises in coffee making, Coffee Dice is exactly what you're looking for. Inspired by dice, this app will change the way you brew coffee by providing a completely random recipe for temperature, coffee-to-water ratio, grinding time, and extraction. If the recipe really fits your taste, you can save it to create a repeat next time. You might think this is entertaining and a bit reckless, but Coffee Dice is a great way to learn different variations for your cup of coffee.